PETROCHEMICALS
Petrochemicals is SABIC's largest Strategic Business Unit and supplies customers all over the world with innovative solutions and products that cater to their demands for improved performance and sustainability. Our product portfolio constitutes the basic building blocks of various chemicals and advanced materials that ultimately enable the manufacture of a wide range of industrial and consumer goods.
Our manufacturing plants produce a wide range of world-class products including olefins, glycols, aromatics, oxygenates, and a variety of functional chemicals, alongside a portfolio of polymers that includes polyethylene, polypropylene, polyethylene terephthalate, polyvinyl chloride, polystyrene, and engineering thermoplastics (ETP), such as polycarbonate, acrylonitrile butadiene styrene (ABS) and other blends. Our market solutions target key segments: packaging, automotive, building and construction, healthcare & personal hygiene, and electrical & electronics.
Although COVID-19 continued to affect the global economy in 2021, the year has been a strong one for the petrochemicals industry. Apart from the automotive industry, which was impacted by a semiconductor shortage, demand was relatively unaffected in other sectors. Hurricanes in America affected polyethylene production capacity and led to a shortage of materials in Europe and Africa; Middle East producers, including SABIC, stepped up to fulfil the demand. Challenges faced by existing plants, likely a result of delayed maintenance operations due to COVID-19, and delays in capacity-expanding projects during 2020 and 2021, further reduced the expected extra supply. However, while other players in the industry faced some challenges to sustain a good supply in 2021, SABIC remained resilient and reliable in its ability to meet the demands of our customers.
Oil and feedstock prices proved to be strong, far exceeding forecasts at the start of the year due to a combination of supply constraints and a faster than expected recovery of oil demand. Furthermore, the sharp rise in energy prices in September led to an increase in production costs, with the high prices of feedstocks forcing some capacity to go offline. The supply chain disruptions that impacted the global economy in 2021 and associated delays, as well as increased container costs, impacted the high volumes of petrochemical products shipped across the world and drove up product prices during the year.
Sustainability and climate change are also increasingly becoming a key focus across industries and governments around the world. Plastic waste has long been considered the main sustainability challenge facing the petrochemicals industry, but new innovations are enabling new opportunities to address both sustainability and climate-change challenges head on. SABIC is leveraging its resources and expertise to develop products that meet the needs of the circular economy and is investing heavily in digitalization and artificial intelligence (AI) solutions to support our overall value chain.
Financial highlights
Petrochemicals and Specialties revenues increased from SAR 100.6 billion in 2020 to SAR 149.9 billion in 2021, an increase of SAR 49.3 billion or 49%, primarily driven by an increase in average sales prices by 50%, which was partially offset by a slight decrease in sales volumes by 1%.
Production volume
Million MT
2021
2020
Chemicals
35.75
37.33
Polyethylene (PE)
4.01
4.13
Performance Polymers and Industrial Solutions (PP and IS)
6.11
6.54
Total
45.87
48.01
Sales volume
Million MT
2021
2020
Chemicals
23.05
23.59
Polyethylene (PE)
7.11
7.02
Performance Polymers and Industrial Solutions (PP and IS)
6.77
6.91
Total
36.92
37.52
GLOBAL MARKETS
The dominant trend in the petrochemicals industry during 2021 was increasing cost and limited supply during a period of recovering demand, ultimately leading to prices surging to their highest levels since 2014. This constriction in supply was prompted by a range of factors: primarily, a lower operating rate caused by climate-related disasters in the US; reliability challenges with suppliers in Europe; increased environmental protection regulations and high energy prices forcing shutdowns of supplier operations in Asia.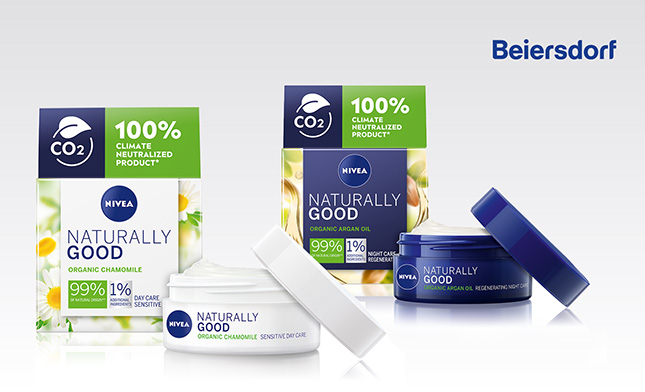 Our bio-based PP resin, part of the TRUCIRCLE™ portfolio, was selected by Beiersdorf to produce the jars for NIVEA Naturally Good day and night face creams.
OPERATING HIGHLIGHTS
– SABIC was recognized by the European Chemical Industry Council (CEFIC) for its TRUCIRCLE™ solutions, which won a 2021 European Responsible Care Award in the category, "Safe and Sustainable: From design phase to use phase".
– SABIC collaborated with Unilever and Greiner Packaging to develop an innovative new Knorr bouillon container using SABIC® PP FLOWPACT FPC45 certified circular impact polypropylene (PP) from the TRUCIRCLE™ portfolio.
– SABIC's bio-based polypropylene (PP) resin, part of the TRUCIRCLE™ portfolio, was selected by Beiersdorf to produce the jars for NIVEA™ Naturally Good day and night face creams, making a major contribution to reducing Beiersdorf's usage of fossil-based virgin PP.
– The high-rigidity PP5707N polymer was introduced to hinged candy tube packaging as a polyethylene terephthalate (PET) replacement.
– SABIC collaborated with Fibertex Personal Care, one of the world's largest manufacturers of spunbond nonwovens for the hygiene industry, to create the industry's first nonwovens range based on recycled plastics, thus supporting a faster transition to a more sustainable supply chain.
– SABIC developed a new method to produce PET by using a new catalyst, antimony trioxide, in place of the existing antimony triacetate. The catalyst quantity required is half that of the previous catalyst.
– In April, we signed a Memorandum of Understanding with the Saudi Recyling Investment Company (SIRC) to conduct a project feasibility study on setting up the first chemical recycling project in Saudi Arabia.The collaboration leverages the synergies and expertise between SIRC and SABIC and aims to make this massive project a role model initiative in the Middle East.
– SABIC received two "Golden Apple Awards" for products in its TRUCIRCLE™ portfolio from the China Plastic Reuse and Recycling Association (CPRRA) at the CHINA REPLAS 2021 conference. In the Advanced Recycling Product category, SABIC won for a bread packaging solution by St. Johns Packaging (a vertically integrated manufacturer) that incorporates a 30 percent content of recycled feedstock from post- consumer waste; this is the first ever bread packaging to use a circular solution. In the Ocean-Bound Recycling Product category, SABIC won for its resin NPI PCR XENOY™ T2BX2500UV, which uses 20% PCR content waste from ocean-bound source waste.
HYGIENE & HEALTHCARE SEGMENT
SABIC launched the new Hygiene & Healthcare (H&H) segment, building on our strong relationships and collaborations with our customers and prioritizing our solutions to meet the demanding needs of the changing global markets. We are responding to global hygiene industry challenges with strategic material solutions that enable and promote sustainability, consumer safety, comfort, and convenience, and support value creation for consumers and our customers.
BIAX PIPE TECHNOLOGY
SABIC partnered with Tecnomatic and Aquatherm, leading players in the pipe industry, to introduce the new BiAx Pipe technology. The product is the result of our success in optimizing the formulation of dedicated PE and PP resins for biaxial stretching. This technology offers significant improvements over incumbent polyolefin pipes, including higher resistance against internal pressure, which enables reductions in wall thickness and thus material usage by at least 30%, superior resistance to slow crack growth. It facilitates trenchless pipe installation, a very smooth inner wall surface that reduces the energy required for pumping, and increases abrasion resistance that prolongs the lifetime of the product. The new PE and PP pipes also offer better resistance to disinfectants, lower coefficient of thermal expansion, and improved low-temperature impact strength.
AUTOMOTIVE-GRADE MECHANICALLY RECYCLED RESINS
We introduced our first automotive-grade resins containing mechanically recycled content within the TRUCIRCLE™ portfolio: the T2E-3320EH PP compound, a high-flow, low-emission, talc-filled PP; the XENOY™ T2NX2500UV resin, an unfilled, UV-stabilized blend of polycarbonate (PC) and PET; and the XENOY™ T2NX5230 resin, a mineral-filled PC/ PET blend. The resins contain up to 29% recycled content and offer performance comparable to the incumbent virgin resins, enabling automotive customers to meet their sustainability goals without compromising on quality.
SABIC is also the first in the industry to offer a polycarbonate based on International Sustainability and Carbon Certification (ISCC) PLUS certified renewable feedstock for various industries, including automotive.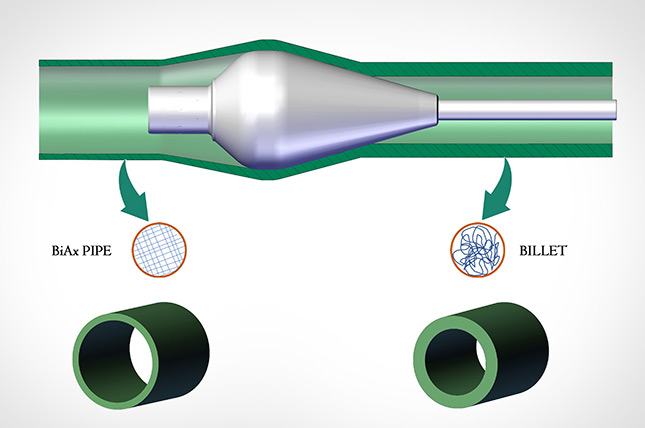 The new BiAx Pipe technology is the result of our success in optimizing the formulation of dedicated PE and PP resins for biaxial stretching.
COLLABORATIONS AND PARTNERSHIPS
Microsoft Ocean Plastic Mouse
Ocean plastic is plastic that has been certified by a third party as being recovered from any ocean or ocean-feeding waterway. To advance efforts to use recycled ocean plastic, SABIC collaborated with Microsoft Corporation to create the Microsoft Ocean Plastic Mouse, which features an exterior shell containing 20% recycled ocean plastic.
Heng Hiap Industries
SABIC collaborated with the Malaysia-based plastic recycling company, Heng Hiap Industries (HHI), to create the first certified circular polymers produced through the advanced recycling of recovered mixed and used ocean-bound plastic, a world first.
Detergent application
SABIC collaborated with a global leader in laundry detergents with a multi-year monoethanolamine supply contract in Europe and Japan for the innovative compact detergent tab application which is environment friendly with reduction in water & energy consumption, packaging material and logistic savings. SABIC Ethanolamine team is expanding global sales to the Personal Hygiene segment to contribute in environmental sustainability with high performance products and social responsibility to enhance human life with care.
Cement grinding manufacturers
SABIC engaged with major manufacturers of diethanolamine-based cement grinding aids in Asia that help to lower energy consumption with higher output in cement plants. Cement consumption is growing rapidly in emerging economies where coal remains a major source of power despite environmental concerns. Efficient grinding aids that increase cement yield and conserves energy, eventually help in carbon footprint reduction and environment sustainability.
Collaboration with government to provide medical-grade oxyen to other countries
SABIC collaborated with the Ministry of Energy and the Ministry of Industry & Mineral Resources, together with the King Salman Humanitarian Aid and Relief Centre in Riyadh, to initiate a campaign to supply Egypt, Jordan, India and Tunisia with medical-grade liquid oxygen to alleviate shortages of the life-saving gas at public hospitals. We specially secured Iso tanks to supply the oxygen to India. Such shortages have been persistent since the start of the pandemic.
Pharma-grade polyethylene glycol collaboration
After the introduction of polyethylene glycol (PEG) 600 Pharma in 2020, SABIC commenced the process of approaching customers for validation and collaboration in local markets in the Middle East and Africa, China, and Europe – a process that can take a a year to complete. SABIC closed the first order of PEG Pharma in October 2021 in Turkey.
EU regulators and paints and coating customers
SABIC successfully acquired the European Union's Registration, Evaluation Authorization, and Restriction of Chemicals (REACH) registration for iso-butyraldehyde (I-BAL) within the paints and coating sector. The completion of the registration reflects our strong commitment to sustainability and product quality, and our constant efforts to comply with Europe's chemicals regulations and legislations.
On reaching this regulatory milestone, SABIC is now able to ensure continuous and sustainable supplies to our customers in Europe. This product is an important addition to our current sales portfolio that supports specialized downstream industries in the European Union.
I-BAL is produced indirectly from the 2-ethyl hexanol (2-EH) manufacturing process. It is used in manufacturing isobutanol, which, in turn, is used in producing paints and surface coatings, inks, cosmetics, herbicides and lube oil additives. SABIC supports REACH objectives which are consistent with its commitments to continuously enhance safety, health and environmental performance, and sustainable solutions for global customers.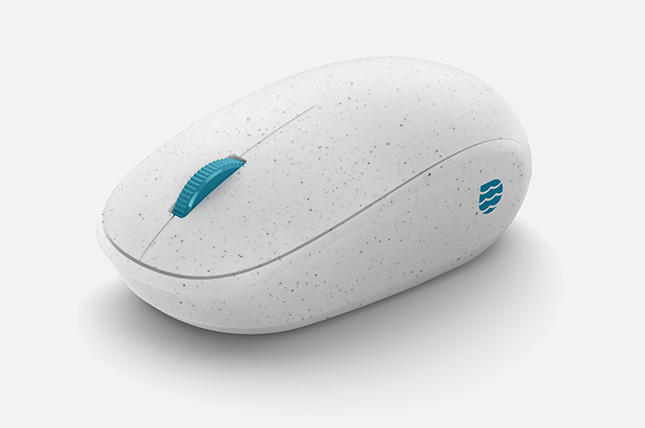 We collaborated with Microsoft Corporation to create the Microsoft Ocean Plastic Mouse, which features an exterior shell containing 20% recycled ocean plastic.
OUTLOOK
Additional capacities are expected to come online during 2022 in US and China, leading to increases in supply and heightened competition in Asia and Europe. With feedstock prices expected to remain elevated during 2022, European producers' margins are expected to be squeezed further, likely triggering a lower operating rate and shutdowns. Asian producers will also suffer from high feedstock prices and an increasing supply of petrochemicals, causing some producers to face declining or zero margins. In addition, Chinese producers will also have to contend with power shortages and adjust to carbon emission control measures by regional governments, forcing a lower operating rate and a higher cost per ton.
Petrochemicals producers in the Middle East region are expected to realize acceptable margins as they compete with global naphtha/coal-based capacities who will struggle with feedstock prices. Demand is expected to remain strong regionally and globally for products from the region. No major additional capacity is expected as feedstock availability is limited.
With sustainability becoming an increasing focus for the industry and particularly for customers, there is a need in the market to develop products and solutions that are designed with circularity and carbon neutrality in mind while also enhancing performance metrics. Pressure is mounting on the industry to act on plastic waste, to utilize waste as a feedstock, and to reduce the greenhouse gases emitted during the manufacturing process. In addition to addressing these issues through innovative products, SABIC will continue to develop and deliver differentiated and sustainable solutions to our customers.