HUMAN CAPITAL
In global business environments today, the pandemic has blurred the boundaries across our workforce, our workplace and the very nature of our work. We have adapted to a "new normal," which requires courage and leadership. In the face of these new challenges, we remained deeply committed to protecting the well-being of our people and providing a platform to help them unlock their full potential to support our continued global growth.
ADJUSTING TO THE NEW NORMAL
In 2021, we continued to build on our "New Norm" initiative, which we launched in October 2020. The initiative is an evolving journey and focuses today on building resilience by ensuring all employees have the capabilities in order for us to continue achieving our objectives and enhancing productivity in these challenging times. In essence, our New Norm program comprises of three key elements; Well- being, Future of Work and Stakeholder Outreach. In 2021, we focused on connecting strategic initiatives to align and converge through our aspirations, points of views and thought-leadership on our new norm.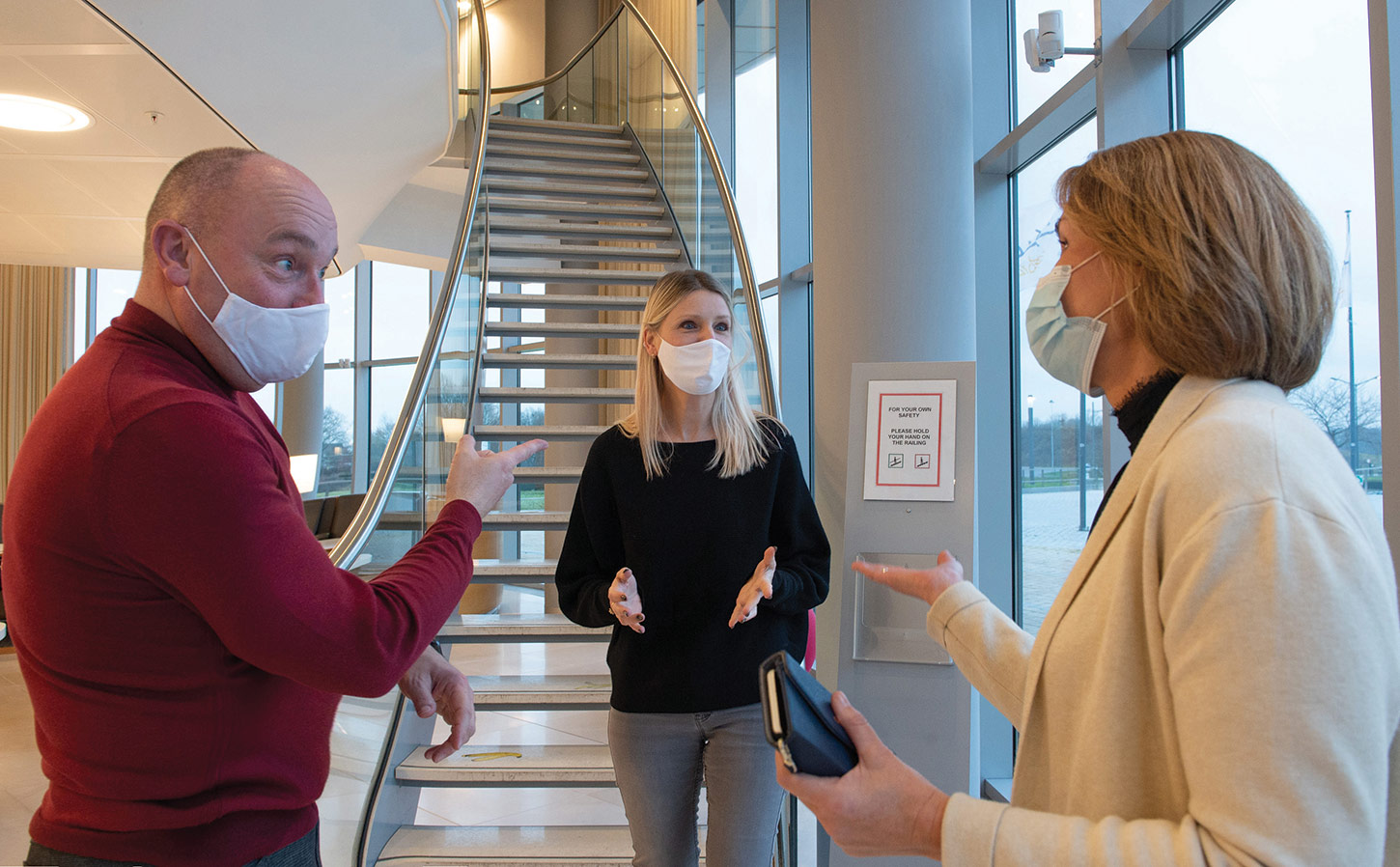 Our 2021 initiatives were important to ensure we stay connected with our global workforce.
LISTENING TO OUR PEOPLE
We recognize that we have a diverse global workforce that has a variety of needs and concerns, and changing patterns of work have introduced unique challenges in terms of employee engagement. This means that we had to sharpen our focus on employee motivation by listening and engaging more via digital focus groups. Our 2021 SABIC COVID-19 Pulse Survey and Global Employee Town Hall initiatives were important vehicles to ensure we remain connected to the real employee sentiment of our 31,000+ strong global workforce.
PULSE SURVEY 2
13,466 employees participated in the Pulse Survey 2 in January 2021. The findings highlighted challenges including increased stress, health concerns, and issues around the current work-life balance. This was not surprising, given the adjustments we have all had to make to adapt to the new normal. On the positive side, almost 90% of respondents felt that we were doing a good job of keeping them informed and treating them with dignity and respect, and 82% recognized the effort we were making to prioritize employee safety during the pandemic.
EMPLOYEE ENGAGEMENT
Our annual Global Employee Town Hall was held virtually in January 2021, when all employees across the globe had the opportunity to participate with our Vice Chairman & CEO. The town hall provided an important connection to bring us all together and reaffirm SABIC's vision, which also included the rationale behind the enterprise priorities for 2021.
SABIC APAC achieved the Top Employer Institute certification as Top Employers Asia Pacific and Top Employer in five of our key APAC markets – Greater China for the eleventh year, and India, Japan, Singapore and South Korea for the past eight years.
We continue to compare favorably with peer organizations in external scoring, indicating that we have responded well to the challenges of the global pandemic. An 83% "Would Recommend" score and an 88% "CEO Approval" score on Glassdoor (as of August 2021), in particular, suggest that our people share our overarching vision.
For the third consecutive year, SABIC was featured on the Financial Times Diversity Leaders Europe rankings which assesses employees' perceptions of companies' inclusiveness or efforts to promote diversity. The list assessed 850 businesses on a number of criteria within their workforces.
HOUSING PROJECTS
SABIC is building high quality, sustainable housing facilities for its employees in Saudi Arabia. On the lines of our successful housing experience in Riyadh, Jubail and Yanbu, we are currently undertaking two projects for our employees. The Al-Matrafiya Housing Project in Jubail Industrial City comprises 2,701 housing units, with advanced structural specifications and features. The second housing scheme, Al-Jaar Housing Project, is in the Yanbu Industrial City, offering a range of contemporary facilites.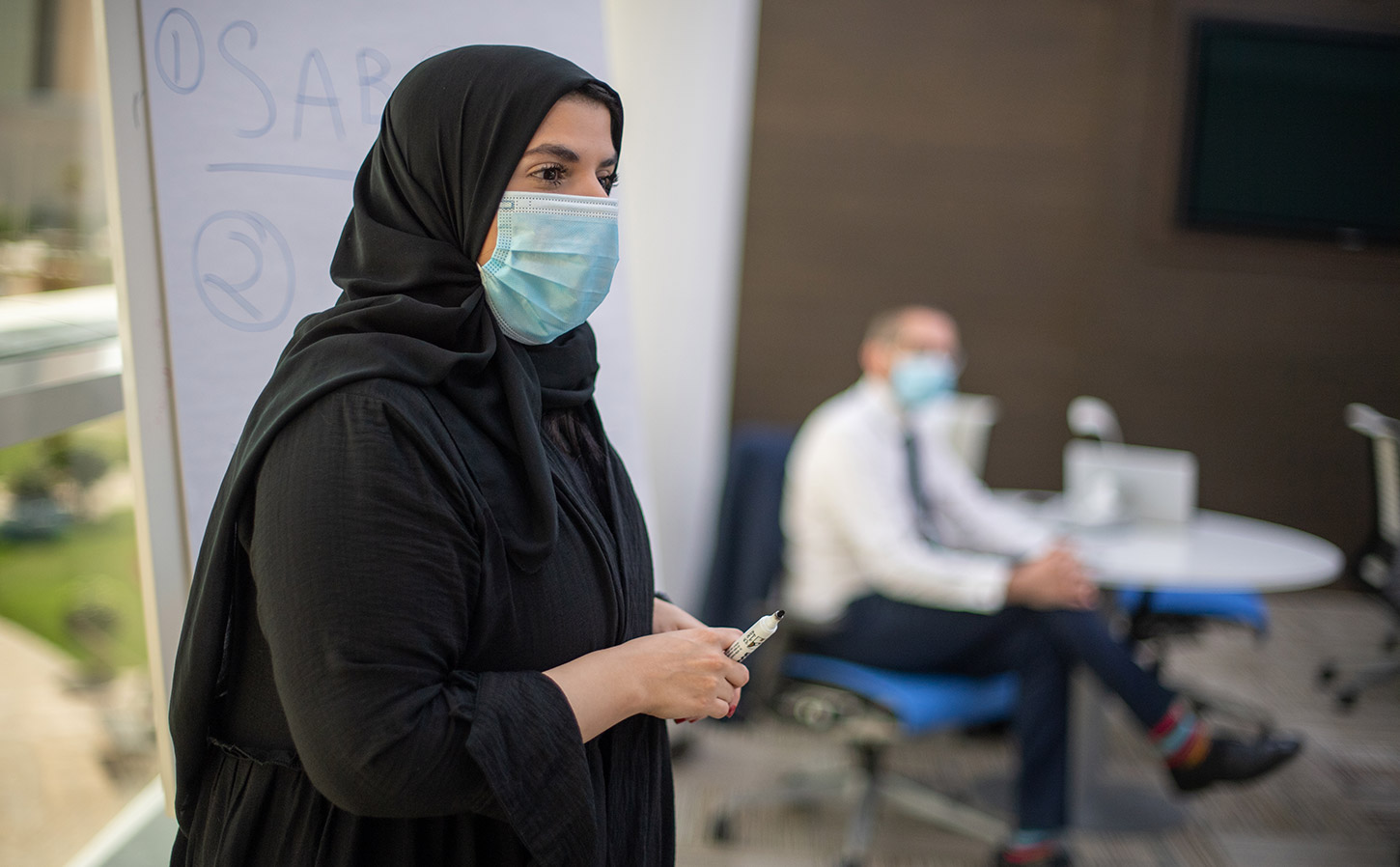 We focus on developing leadership through several innovative programs.
BUILDING UPON OUR CAPABILITIES
During the pandemic, the ability to learn on-the-job, face-to-face and in the same physical space has been severely impacted. Learning experiences have been transformed, posing challenges to both learners and instructors. Our HR teams have demonstrated agility to assure learning stability by converting our capability-building initiatives to virtual, interactive and hybrid learning. We have all had to upgrade our personal IT skills, and learn to be more flexible, creative and, above all, patient with ourselves and with one another through this transition. Through our "HR One" platform, our employees are able to progress their career goals and development needs by registering for professional certificates, courses, and conferences in all disciplines at SABIC. With capabilities for the New Normal as a priority, the 2021 staff development calendar also focused on developing leadership through several innovative virtual programs.
SABIC LEADERSHIP WAY
The SABIC Leadership Way (SLW) framework recognizes and celebrates the impact and the role-modeling of observable behaviors. Launched in 2017, the SLW is a distinctive model to attract talent, engage employees and drive better industry recognition. In July 2021, global research and advisory firm Gartner selected SLW as a best-practice model of how to transform global business leadership in the light of new internal and external challenges. Our response to the COVID-19 pandemic is a testament to the success of this leadership behavioral model.
ASIA LEADERSHIP ACCELERATION PROGRAM
The second cohort of candidates to our Asia Leadership Acceleration Program was accepted in 2021. The program, launched in 2020, strengthens cross-functional communication and collaboration and provides an opportunity for all participants to improve their strategic acumen, demonstrate leadership, and create organization-wide impact.
NEW MANAGER LEARNING JOURNEY
At SABIC, we recognize the vital role that our managers play in developing the capabilities of their teams and motivating them. The New Manager Learning Journey is an on-the-job learning portal that focuses on providing learning support and skill building under the mentoring guidance of a manager in conjunction with a HR professional. This is a global initiative covering all our businesses and functions (outside of Manufacturing) and has fully matured during 2021.
PROJECT ENDEAVOR
The second cohort of participants in our Project Endeavor program was enrolled in 2021. Project Endeavor, introduced in our Asia Pacific region in 2020, and later expanded to other regions, builds employee capability by providing the opportunity for employees to work on actual business projects sponsored by senior leaders in accordance with their performance, strengths, career interests and passions. Project Endeavor strengthens cross- functional collaboration and brings regional talent into the spotlight.
BUILDING FOR THE FUTURE
COLLABORATIVE SCHOLARSHIP
As part of our commitment to invest in people and ESG efforts, SABIC Americas donated US$ 500,000 to FOSSI (The Future of STEM Scholar Initiative), a US-based industry program that provides scholarships to undergraduate students seeking STEM degrees at Historically Black Colleges and Universities (HBCUs). SABIC leadership is passionate about developing the next generation of STEM professionals for the chemicals industry and to ensuring a much-needed pipeline of diverse and talented students into the industry. The route forward is through scholarships and SABIC is joining forces with like-minded businesses to raise more than US$ 10 million in the next two years for this talent development purpose.
SABIC SCHOLARSHIP PROGRAM
Since 2005, the SSP has created, developed and maintained a global sustainable talent pool to fulfill SABIC's growth ambitions through a comprehensive education strategy overlooking related programs for both graduates and undergraduates. In 2021, our Scholarship Program continued to face significant logistical challenges. However, we successfully overcame these challenges with our ongoing educational support and wellbeing programs. In addition, this year, 12 scholarship students graduated from Chinese universities for the first time in our history.
SABIC NETWORKS
In June 2021, the SABIC Young Leadership Council (SYLC) held a virtual event, iENGAGE, bringing together young leaders from over 25 countries across the world to find bold solutions to challenges around pressing business and people issues. SYLC is a platform at SABIC that empowers our young leaders to shape future business decisions through direct interaction with the CEO and Executive Leadership team.
SABIC Women's Network (SWN) hosted a global town hall In November 2021 where they relaunched as "SHE" with a vision of making SABIC the most preferred brand for women working in the chemicals industry.
SHE empowers women to be leaders and achieve their aspirations by building visibility, capability, and a sense of community. SHE initiates and sustains meaningful stakeholder engagements internally and externally to attract and retain women and develop the next generation of women in science, technology, engineering, and mathematics.
Previous Article
Next Article