Intellectual Capital
SABIC Corporate Technology and Innovation (T&I) strengthened its global operations in 2021, powered by 1,660 full-time employees spread across 20 centers. Through innovation and sustainability, SABIC has developed a portfolio of 10,090 patents and pending applications, delivering differentiated and sustainable product and application solutions that address the demands of our customers and the value chain over the near-, mid-, and long-term.
Our global T&I operations recorded a strong performance in 2021 while continuing to align with SABIC's strategic vision to become the preferred world leader in chemicals. During the year, T&I continued to improve current asset efficiencies, deploying multiple projects that yielded an improvement of 2-3% in performance and strengthening reliability across our global operations to avoid unplanned losses. We focused on leveraging our global T&I resources and capabilities to broaden our innovations portfolio and increase return on investment to maintain our competitive edge in a recovering global market.
IMPROVING PRODUCTION
A number of initiatives were implemented to increase production efficiencies across SABIC polyethylene (PE) production plants, resulting in better utilization of raw materials, carbon footprint reduction and a solid cost position. We developed new proprietary catalysts for gas phase polypropylene (PP) plants that are phthalate-free, meeting SABIC's product safety and quality benchmarks. Introducing catalysts and broadening the operating window of the high-density polyethylene (HDPE) slurry process resulted in enhanced product quality and an impressive throughput rise of >10% at one of our bimodal HDPE plants. Other initiatives carried out in 2021 included implementing 1-butene recovery systems at our plants, utilizing offgas at cracker plants, enhancing the polymerization process and optimizing production wheel efficiencies.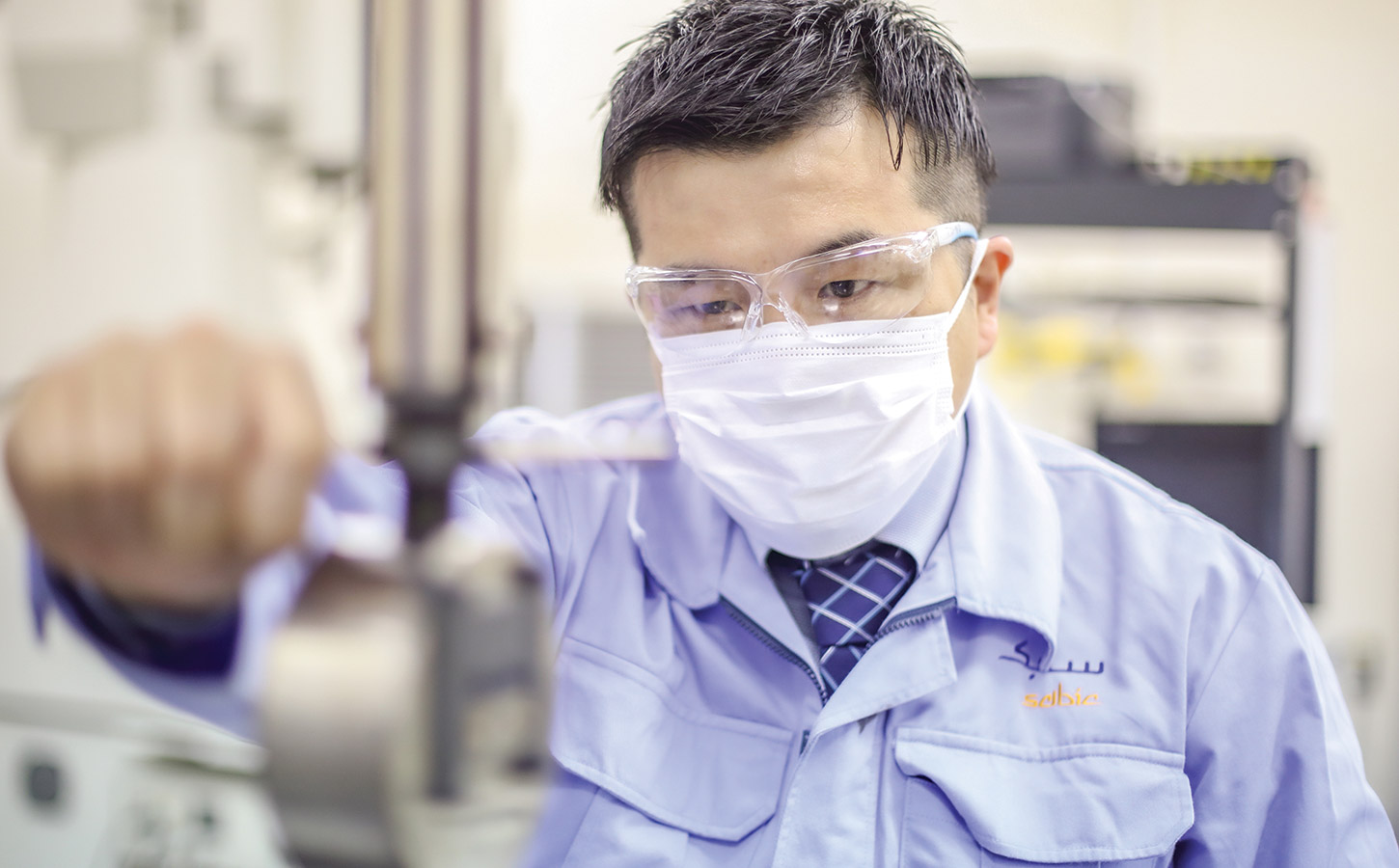 We focus on leveraging our global Technology & Innovation resources and capabilities to broaden our innovations portfolio.
PROCESS INNOVATION
T&I delivered significant value creation by improving feedstock utilization efficiency, enabling us to leverage the Saudi Energy Efficiency Center (SEEC) credit mechanism to close gaps in feedstock utilization and comply with SEEC second cycle targets. The tangible value created was quantified as 3% of additional MTBE production, along with a reduction of natural gas consumption and GHG emissions at the Petrokemya MTBE plant. The capability window of low-density polyethylene (LDPE) copolymers was enhanced based on SABIC Clean Tubular Reactor (CTR) technology. With the i-C4 dehydrogenation pilot plant successfully commissioned at our manufacturing site in Geleen, The Netherlands, the dehydrogenation unit heat management was optimized to yield a total benefit of ~10% additional MTBE. In addition, this project was able to reduce fuel consumption and resulted in an equivalent reduction of 1,100 tons of carbon emissions. These initiatives also contributed to SABIC's intangible assets growth with new patent applications.
PRODUCT INNOVATION
PACKAGING
SABIC commercialized several PE products in 2021. The demand for a product with high heat sealability, processability and excellent mechanical properties was fulfilled by developing the 8600x polymer with solution technology. We successfully launched the new VM006 grade based on SABIC's proprietary metallocene technology to serve the industrial polymer film segment. S18, a new LDPE film grade to enable enhanced down gauging was successfully commercialized as well as MAH-G-LLDPE – a new tie layer grade based PE. To support the growth of SABIC caps and closure portfolio in rigid packaging, two new HDPE grades for carbonated soft drinks were launched.
POLYPROPYLENE TECHNOLOGY
As the pandemic continued to constitute a global threat, SABIC introduced an improved, peroxide- free meltblown polypropylene (PP) material to meet the surging demand driven primarily by the need for facial masks, as well as other everyday personal hygiene products such as diapers and fem-hygiene. A mini-random PP grade was also developed for sheets and industrial pipes with enhanced processability. SABIC's global PP compound portfolio expanded in 2021 with new developments including a lightweight solution for exterior applications of electrical vehicles and a flame-retardant solution for foamed rigid packaging.
ISOPROPANOL PRODUCTION
Addressing the growing demand for hand sanitizer across Saudi Arabia due to the pandemic, we formed a task force to evaluate options for producing isopropanol (IPA) — a common disinfectant and key ingredient used in hand sanitizer production. T&I along with the Manufacturing division collaborated with a team from the SABIC research center at King Abdullah University of Science and Technology (KAUST) to develop the technology within a short period for multi-purpose IPA production and commercialized the product this year. The domestic production of IPA drove sustainability across the local market by achieving self-sufficiency, and also contributed to the Kingdom's exports.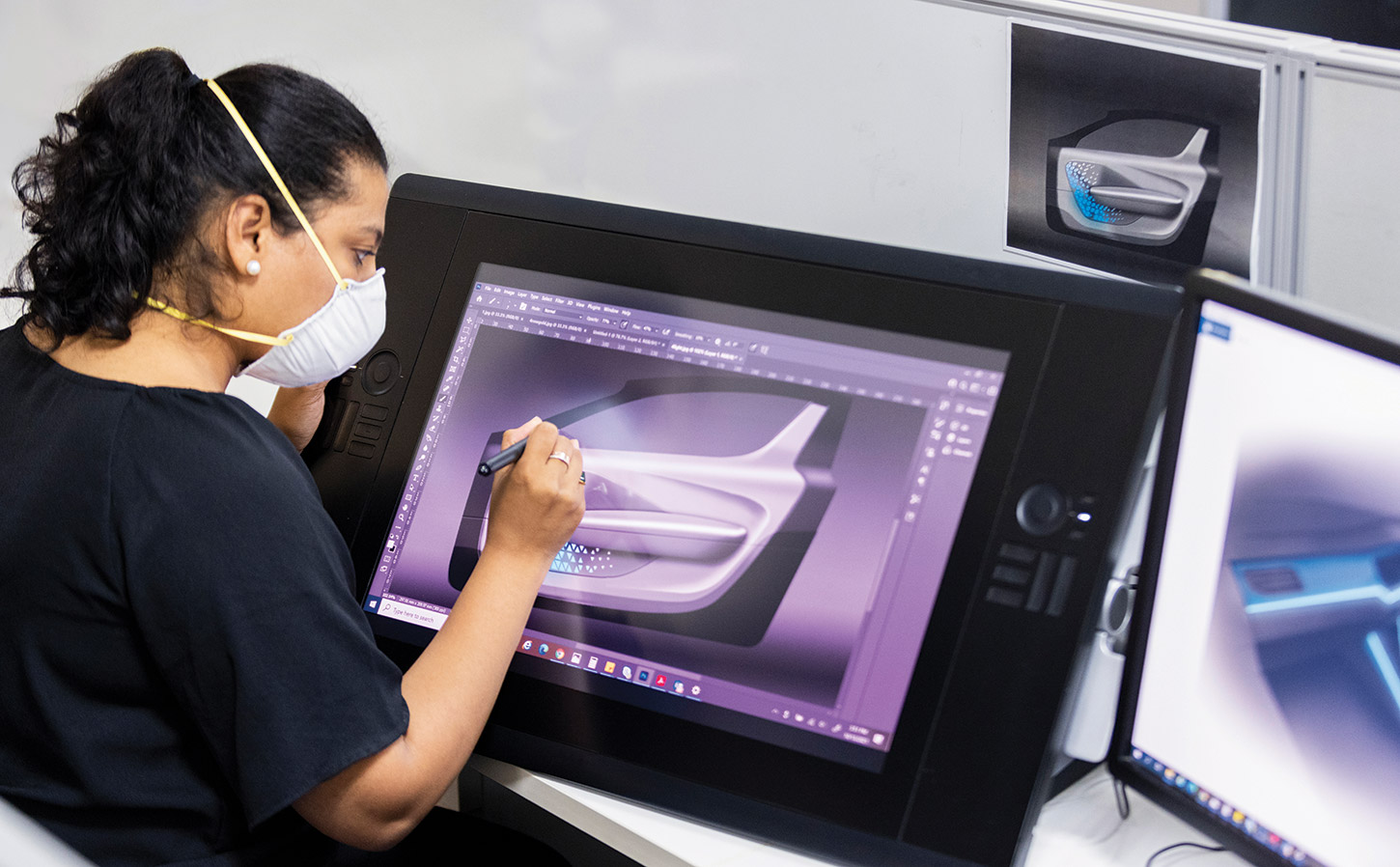 Automotive has been identified as one of the main sectors where SABIC's current market position could be leveraged for deployment of non-metallic solutions.
PARTNERSHIPS FOR PROGRESS
SABIC entered into and continued a number of collaborative and highly strategic partnerships during the year. We partnered with NETSTAL – the Swiss subsidiary of KraussMaffei High Performance AG – for the expansion of its Thin-Wall Packaging Application Center located in Näfels, Switzerland.
SABIC continued to develop new technologies to further improve techno-economics of crude-oil-to- chemicals conversions and joined forces with Saudi Aramco to expedite their deployment. These technologies, following successful piloting and demonstration, are expected to deliver over 70-80% conversion to chemicals. Additionally, as part of Project New Journey, the Non-Metallic Initiative with Saudi Aramco focused on accelerating project deployment to create added value to crude oil by converting it to finished products along the petrochemical value chain. Oil & Gas, Packaging, Construction, Renewables and Automotive were identified as five main sectors where SABIC's current market position could be leveraged for deployment of non-metallic solutions.
SABIC signed a memorandum of understanding with NEOM, to identify opportunities for collaboration in the development of a green chemistry hub using renewable energy. We continued research collaborations with universities, with the successful development of biaxially oriented polyolefin pipes with the University of Bradford, UK. New collaborations will focus on projects aligned with our One Portfolio initiative, competency development needs, and new breakthrough innovation opportunities. To develop a commercial scale process for the biaxially oriented polyolefin pipes, SABIC engaged in a partnership with Tecnomatic, an innovative company for pipe extrusion equipment and with Aquatherm, a producer of polypropylene random pipes. In order to expand our solution offering to markets including Oil & Gas, Automotive and Building and Construction, an Advanced Composites strategy was developed and agreements are being explored with third parties to gain access to continuous fiber-reinforced, thermoplastic tapes and prepregs.
TECHNOLOGY LICENSING
With a significant portfolio of digital assets and technologies, Technology Licensing manages, secures and licenses the use of SABIC proprietary technologies in projects undertaken by SABIC, our affiliates, partners and selected third parties. In 2021, we made the technology for biaxially oriented polyolefin pipes available to SABIC partners through a licensing model. We also identified key T&I projects with licensing potential in areas such as energy reduction as well as water and chemical savings. We will continue detailed assessments for business value estimation following successful deployment of the technologies.
OUTLOOK
T&I remains the cornerstone of SABIC's growth strategy, with a clear priority to strengthen our technology pipeline and accelerate sustainable innovation. The end of 2022 will mark a major milestone in our circularity efforts with the technical completion of our first commercial advanced recycling unit which will have capacity to process 20,000 tons of mixed and used plastics to produce certified circular feedstock for our crackers in Europe. SABIC aims to expand our circular product and technology offerings by rolling out market foundation initiatives to affiliates and partners in the US, APAC and MEA.
Previous Article
Next Article