LOOKING FORWARD
In 2021, we will continue to ensure that EHSS is a core SABIC value embedded in our DNA.
EHSS
We will continue pro-active environmental emission management and hold manufacturing technical exchange conferences. We also will complete the rollout of the health and safety competency framework and curriculum. And we will implement the EHSS incidents compliance committee and enforce accountability by addressing human leadership associated with non-compliance of SHEM standards.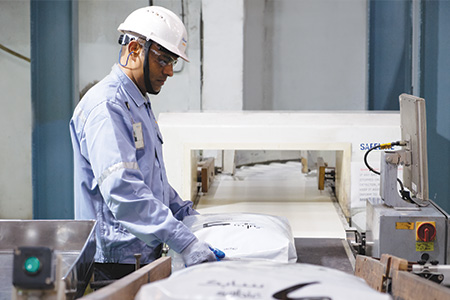 The adaptability and resilience of our people during this challenging year was a true highlight for SABIC.
RISK AND EMERGENCY RESPONSE MANAGEMENT
We will continue to plan and prepare our employees for a broad range of scenarios, including an enhanced focus on integrated emergency-response drills with government agencies. We will continue training employees in SAFER, and we will continue developing EHSS Maturity. We also will bolster efforts our operational security through enhanced infrastructure. And we will also place emphasis on automation and use of remote-operated robotic firefighting in the Middle East and Africa regions.
PRODUCT STEWARDSHIP
We will continually improve our foundation of sound chemicals management and pursue new focus areas such as the Safer Chemistry program and support for our Circular product portfolio.