Social and Relationship Capital – Response to Covid-19
COMMUNITY GIVING
As daily life and health around the world reeled under the impact of the pandemic, our global teams united under our rallying cry 'Together We Overcome COVID-19', supporting community outreach programs and working with government authorities and NGOs to achieve maximum impact and address people's needs promptly and effectively.
Throughout the year, we remained focused on protecting the health and wellness of our employees and communities, supporting the business requirements of our customers, and collaborating with government and NGO partners around the world. We strengthened our external collaboration ecosystem to improve our return on innovations, and worked with partners to promptly develop innovative solutions to help address the pressing challenges posed by the pandemic – as we clearly understood the important role of the chemical industry in the recovery of the global economy and our role within that. We contributed significantly toward minimizing the impact of the pandemic through investments of over US$ 33.4 million in monetary and in-kind donations, delivered across 212 activities reaching over 35 million people in five continents. We also committed to matching donations made by our employees to charities responding to COVID-19.
We are proud of leading streamlined efforts in partnership with government entities and NGOs throughout the world to bring humanitarian aid wherever it's needed, providing sought-after materials ranging from sanitizers and medical supplies to protective equipment for frontline healthcare workers. We continue to review these efforts and their efficacy, and to look into other geographies and actions in an effort to increase our positive and meaningful impact.
In China, shortly after the initial outbreak, SABIC swiftly responded to the Chinese government's calls to support frontline medical workers with a US$ 1.1 million donation to Hubei Charity Federation. We also provided urgently-needed medical supplies and personal hygiene and healthcare products, benefiting over 1.5 million people.
Throughout the rest of Asia, our investments supported local food banks, hospitals and NGOs through 13 programs, benefiting over 1 million people across eight countries: India, Singapore, Malaysia, Philippines, Thailand, Vietnam, Japan and South Korea. We have supported government initiatives, fundraising organizations and hospitals across the region, including India's Prime Minister Care Fund, Singapore's National Council of Social Service, and NGOs such as Red Cross and Caritas Manila, with monetary and in-kind donations to alleviate the pandemic's economic and community impacts.
In Saudi Arabia, we partnered with government authorities through 26 programs. At the outbreak of the pandemic, national contributions ranged from supplying ethanol for sanitizers and polymer resins for sanitizer bottle manufacturing to distributing medical supplies such as latex gloves and disposable medical gowns. These programs were conducted through partnerships with the Ministry of Health and National Unified Procurement Company, as well as other government entities and NGOs. We also supported several social awareness campaigns through various platforms to promote community health and highlight the importance of best practice in curbing the spread of COVID-19.
Elsewhere in the Middle East and Africa, our investments reached 12 programs, benefiting communities in six countries - Egypt, Tunisia, Morocco, South Africa, Kenya and Pakistan. These programs brought medical supplies and personal hygiene products to government entities, hospitals and NGOs such as Al-Amal Association in Morocco and Tahya Misr Fund in Egypt. Food bank donations were also provided though NGOs such as Al-Amgir Welfare Trust in Pakistan and Things on Wheels in South Africa.
In Europe, our campaigns supported healthcare workers on the frontlines, the education of children kept home from school, as well as isolated elderly and vulnerable people. All told, we supported our communities through 115 programs in 10 countries across Europe - Austria, France, UK, Germany, Hungary, Spain, Italy, the Netherlands, Poland and Russia. T&I expertise helped community groups in the UK develop a new protective facemask design. After a review to determine which SABIC material would be best suited, we provided 22 tons of material allowing 500,000 facemasks to be rapidly produced by injection molding.
In the Americas, SABIC donations to food banks and NGOs such as the United Way, Rotary International, Cruz Roja Mexicana and Fundacao Esporte helped people in the US, Canada, Mexico, Brazil and Argentina through 44 programs. We also contributed with products such as LEXAN™ film for the production of personal protection equipment for healthcare workers, and medical equipment such as ventilators, monitoring devices, respiratory therapy machines and diagnostic equipment.
As COVID-19 continues to be a global concern, we are continuing to build strategic partnerships to actively support global, national and community responses against the pandemic – true to our promise: 'Chemistry that Matters™'.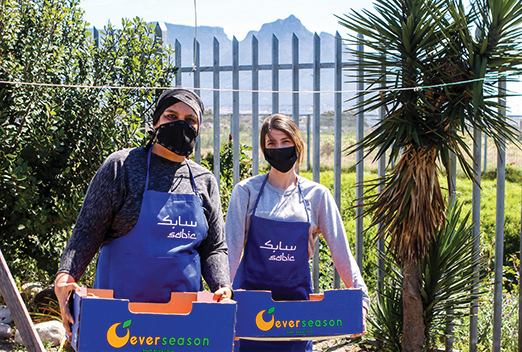 Our contributions in health & wellness toward COVID-19 pandemic relief reached 30 countries.