AGRI-NUTRIENTS
SABIC's Agri-Nutrients Business supplies customers throughout the world with a wide variety of fertilizers, from general to highly specialized. The Business Unit's product range includes urea, ammonia, MAP, DAP, phosphate-based fertilizers, and a comprehensive portfolio of nitrogen-based compound inorganic products as well as specialty solutions.
2020 was a testing year for the world's agri-nutrients producers. With COVID-19's economic impacts compounding those arising out of trade disputes and geopolitical tension, continuing to help provide secure, reliable food sources to the world's growing population has never been more challenging.
It's been a year of contrasts, with falling crude prices feeding through to lower feedstock costs but revenues also under pressure, as increasing global production capacities make margins hard to sustain. Our agri-nutrient customers have also faced pressures on multiple fronts: environmental, regulatory, credit lines, and not least, commercial. Yet overall the fertilizer industry has been one of stability, with favorable weather bringing strong demand and most governments defining agri-nutrients as an "essential commodity," in the interests of food security.
Throughout the crisis, SABIC has continued to produce and deliver the solutions the world's food producers need, while calmly continuing the ongoing work of improving the products we make, and the ways we make them.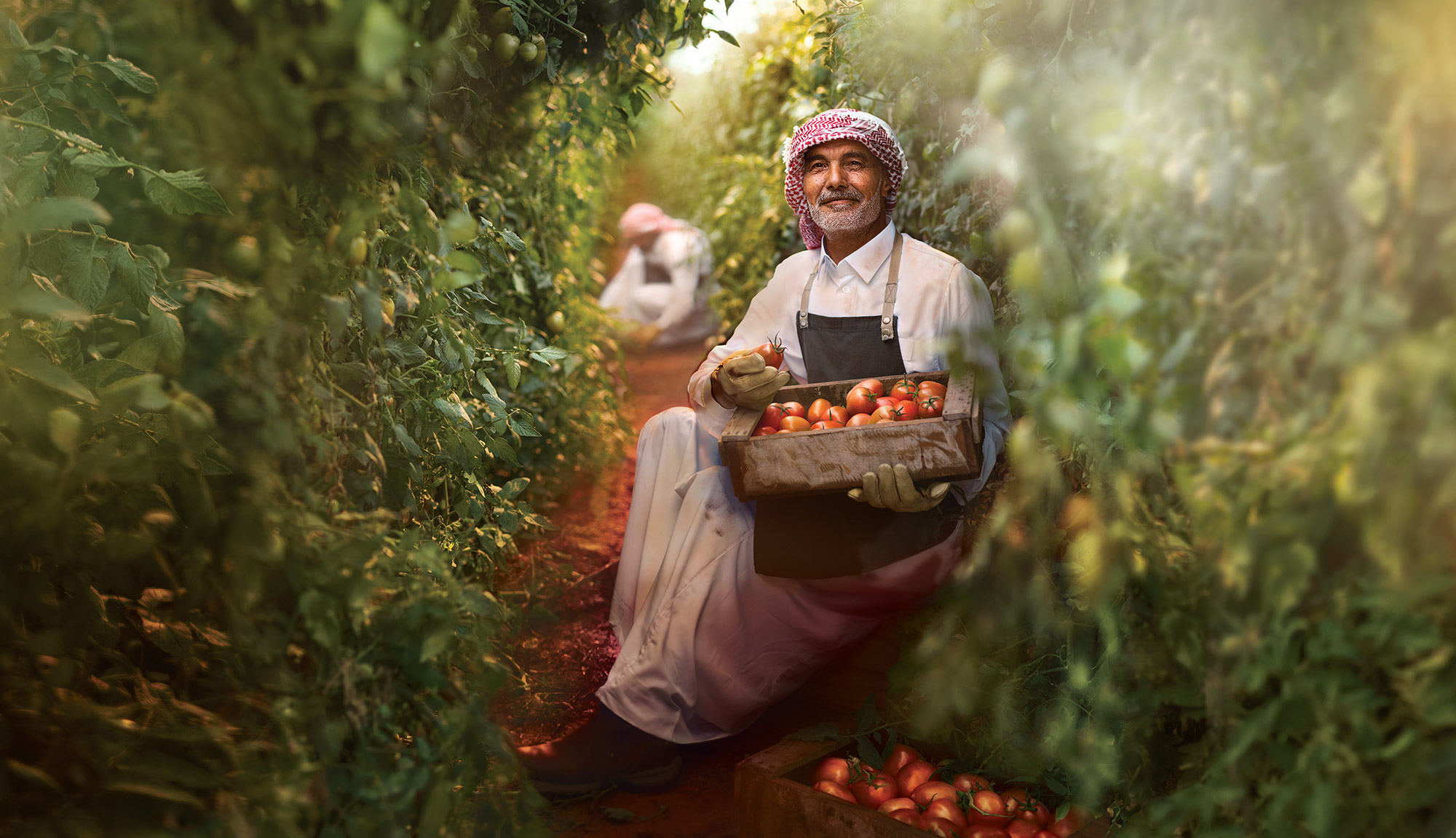 Estidamah helps spread best agricultural practices with applied new crop management at commercial farms.
FINANCIAL HIGHLIGHTS
Agri-nutrients revenues amounted to SAR 6.12 billion in 2020, a decrease of SAR 1 billion or -14%, compared to SAR 7.12 billion in 2019. The decrease was attributable to the lower average selling prices despite the increase in sales volumes by 7%.
Income from operations for 2020 was SAR 1.53 billion, a decrease of SAR 0.48 billion or -24%, compared to SAR 2.01 billion in 2019. The decrease was mainly attributable to the lower average selling prices.
OPERATING HIGHLIGHTS
INTEGRATION, COLLABORATION
This year saw the beginning of the integration of our agri-nutrients assets under one umbrella, with all related equity shares and assets consolidated in a new company, SABIC Agri-Nutrients Company, in line with SABIC's diversification strategy and transformation program. As production is integrated in pursuit of synergies and efficiencies, as well as accelerated, sustainable growth, the product portfolio is being actively diversified, reflecting ever more fragmented, specialized customer needs, and the pricing premiums available for those who meet them.
Special multi-disciplinary teams have worked together to model the necessary customer focus mindset, engaging directly with customers to identify unmet needs and collaborate in developing effective solution strategies that will enable an efficient supplier of commodities to become also an ever more agile and innovative supplier of differentiated value-add products.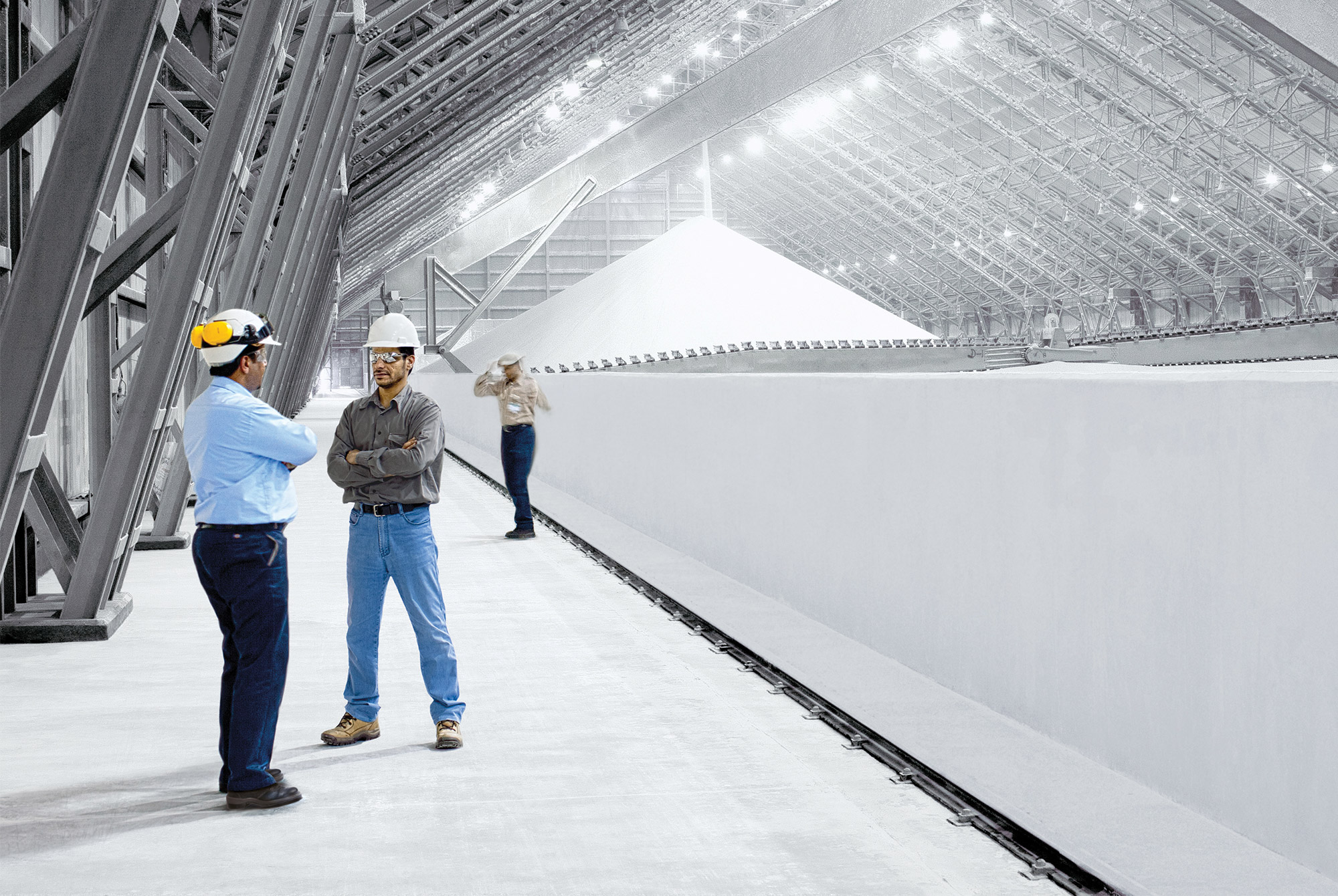 BLUE AMMONIA PRODUCED AT SABIC AGRI-NUTRIENTS MAKES GLOBAL DEBUT - Saudi Arabia successfully demonstrated the ability to ship blue ammonia from Saudi Arabia to Japan in September 2020 for use in zero-carbon power generation. It is the first time in the world that a solution has been found for blue ammonia shipments, paving the way forward for the further use of hydrogen in the energy system. The ammonia was produced at our SABIC Agri-Nutrients facility in Jubail and the equivalent amount of CO2 produced was captured. Ammonia, a compound consisting of three parts hydrogen and one part nitrogen, can help in addressing the challenge of meeting the world's growing energy needs with reliability and sustainability. This supply chain demonstration came as part of a pilot study being conducted by the Institute of Energy Economics, Japan, and Saudi Aramco in partnership with SABIC.
NEW PRODUCTS, NEW APPLICATIONS
We continued developing new differentiated products and fertilizer grades.
Urea calcium sulfate (UCS), a unique fertilizer containing nitrogen and sulfur, made from locally sourced urea and gypsum, is a world's first. Production began early this year, followed by sales to customers around the world. Commercial trials for WS NPK 13-13-13, the world's first fully water-soluble granular NPK grade – were completed, and sales to local customers began. Commercial production of three new urea-differentiated products – stabilized urea, zinc enriched urea and humic acid-coated urea is planned towards the end of the year.
We further expanded our NPK/NPS portfolio produced at our joint venture company, the Ma'aden Wa'ad Al-Shamal Phosphate Company (MWSPC), and introduced new grades to the global market in 2020. MWSPC produced two grades, NPK 10-26-26 and NPK 20-20-0+13S, and SABIC exported them to our global customers.
Our phosphate sales in India grew by 12 percent in 2020 compared to the previous year, strengthening SABIC's position in this key market. We also strengthened our phosphate position in the US by around 30 percent.
In a "non-agricultural" application, a number of new countries joined the list of those using technical grade urea to help reduce nitrogen oxide emissions from factories and vehicles.
We are also working closely with our manufacturing facilities to develop projects and technology solutions to new regulatory energy challenges, and to enhance plant efficiency, with improved reliability, and reductions in energy consumption and CO2 footprint.
AGRICULTURE RESEARCH
The National Research and Development Center for Sustainable Agriculture (Estidamah) continued working to help spread best agricultural practices, with applied new crop management at commercial farms boosting yields and quality. It also continued to offer advice and assistance to regional greenhouse farmers, as well as launching a vertical farming partnership program to stakeholders and potential investors, with an offer to host-related technologies for research and demonstration purposes.
Estidamah also joined the Ministry of Environment, Water and Agriculture caravan, providing advisory services and showcasing best agricultural practices to greenhouse farmers in seven regions throughout the Kingdom, as well as participating in numerous field days, festivals and trade fairs, spreading best practice, meeting customers, listening to their concerns, and noting their needs.
LOOKING AHEAD
We will continue to develop various differentiated products in the pipeline including stabilized nitrogen, enriched UCS, biodegradable CRFs (controlled release fertilizers) and new water soluble NPK grades. We will also continue to work with our customers to develop process solutions to key crop nutrition challenges, helping improve farm profitability and environmental performance.
Leveraging artificial intelligence and modern technologies is a cornerstone of our corporate digital transformation agenda program to introduce different, smart farming solutions. Together with our collective market experience, we are eager to elevate our customer engagement, demand fulfilment and knowledge sharing, and explore opportunities to convert threats into opportunities. This will also enable the exploration of multiple opportunities in key strategic regions (Saudi Arabia, Africa, and North and Latin Americas), and we will continually seek opportunities to enter new markets and introduce new products toward our vision of being a national champion and a global leader in the agri-nutrients industry.
Previous Article
Next Article