SABIC maintains and enforces standards of behavior. Policies, such as the Code of Ethics, are established by executives and approved by the board.
Every employee is responsible for their integrity and can raise compliance concerns through several channels. Where legally permissible, employees can raise concerns anonymously. SABIC strictly prohibits retaliation.
INTEGRITY CULTURE
In 2017, the Compliance team conducted a Global Integrity Assessment to measure integrity culture, engaging every employee. Its now improves ethical leadership and adherence to the Code of Ethics, laws, and other company policies. A survey in 2020 will measure progress.
In another initiative this year, the Legal team fostered an open dialog about how Compliance and HR can better work together.
In October, SABIC was awarded the prestigious "Compliance Leader Verification" status by the Ethisphere Institute, following an independent review of its ethics and compliance program.
EXTERNAL LEADERSHIP
This year, SABIC hosted a major conference in Riyadh to elevate corporate integrity and compliance practices.
COMPLIANCE INVESTIGATION DATA
As of December 31, 2019

Compliance concerns raised*
Incidents closed*
Violations found*

Compliance concerns raised*
Incidents closed*
Violations found*
Saudi Basic Industries Corporation and its wholly owned affiliates
157
135
41
COMPLIANCE TRAINING DATA AS OF DECEMBER 31, 2019*
Completed

99.17%

(330,328)
HUMAN RIGHTS
We work with suppliers who conduct business in a responsible way. As such, we vet them on human rights. Upon registration, we indicate our requirement to follow labor laws and respect workers rights. Purchasing decisions are based on compliance.
SUSTAINABILITY GOVERNANCE
This year, our Sustainability department moved to the Technology and Innovation function, accelerating development of sustainable products. The move builds upon efforts to weave sustainability into our corporate culture.
Dr. Bob Maughon became the new Executive Vice President for Sustainability, Technology and Innovation in April. He has a strong background in corporate venturing, research and development, strategic planning, and risk management.
Clear sustainability communications inspire employees. Our Sustainability Council defines our vision and goals, and decides on Sustainability Steering Committee recommendations. Sustainability is in the scope of the board's Risk and Sustainability Committee, emphasizing its importance.
Our internal businesses and functions lead progress on the council's goals. They each appoint a champion to work with our Sustainability department.
An example of the impact of this structure is in our recent materiality refresh. Sustainability gathered input from regions and external stakeholders, cross-functional global teams provided recommendations, and the steering committee approved.
The final recommendations were reviewed and approved by the Sustainability Council, and presented to the board committee in early 2019.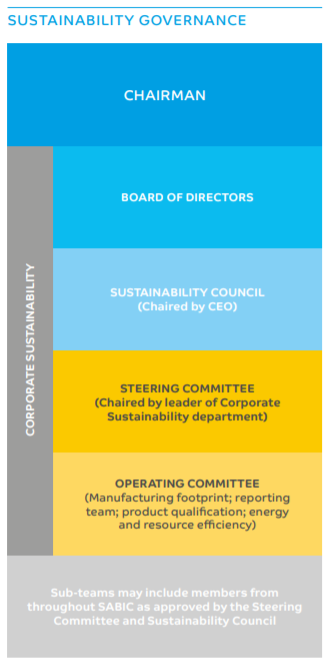 Sustainability Governance
Previous Article
Next Article