OUR APPROACH AND PERFORMANCE
SABIC innovates for more sustainable products and operations, collaborating with peers to reduce our global carbon footprint.
2019 Highlights
Launched TRUCIRCLE™ with new solutions for the circular economy.
Developed a plastics-recycling facility in Geleen, the Netherlands.
Began construction of a ULTEM™ resin facility in Benoi, Singapore.
Unveiled a new LEXAN™ based on certified renewable feedstock. 
Earned the "Protect and Sustain Certification" for agri-nutrients. 
Introduced LNP™ ELCRIN™ iQ PBT from recycled waste. 
Qualified six sustainability solutions, bringing our portfolio to 88.1  
Case Study: LEXAN Polycarbonate Certified Renewable Feedstock
This year, in an industry first, we unveiled a new LEXAN polycarbonate based on certified renewable feedstocks. It shows a63 percent lower lower carbon footprint than fossil resource–based polycarbonates. 
The LEXAN polycarbonate is our latest effort to develop polymers from renewable feedstocks and lower our climate impacts. We produce the new material in Bergen op Zoom, the Netherlands.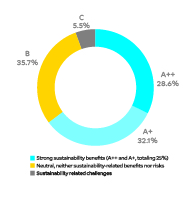 Performance metrics
New patent filings in 2019

Total sustainability solutions
¹ Advisory panel review pending.
²  We ended 2019 with an active patent portfolio of 12,540, representing a marginal increase over last year. With the filing of 372 new original patent applications in 2019, SABIC continued to take a more critical view of the added-value contributions of the intellectual-property (IP) estate and new filings. This resulted in not pursuing more than 1,200 patents or patent applications, and in saving about US$ 4 million in patent maintenance fees and costs. Further, the drop in new patent filings is primarily because of the strategic decision to file patents on projects of higher-return value, importance to the business, and advanced stage. SABIC utilizes the IP estate to support a significant increase of licensing of its technologies.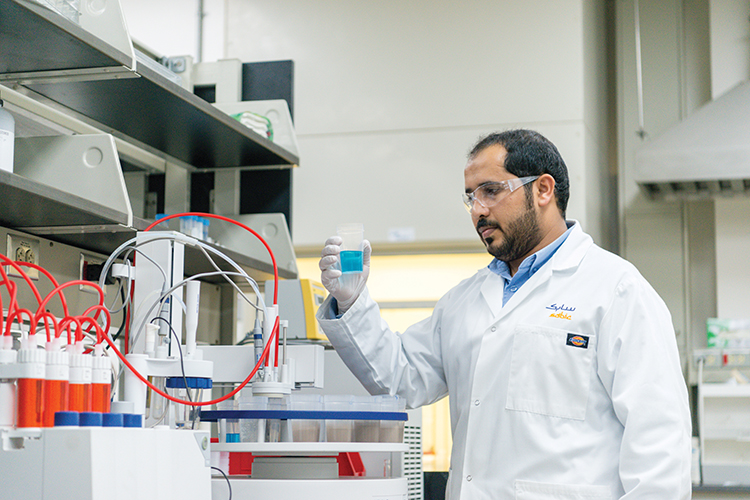 Our technology and innovation activities are supported by state-of-the-art technology centers located all over the world.