Our Approach and Performance
This year, climate change became a material topic for our company.
We are in a prime position to elevate the discussion of climate change and to influence positive change. 
We target to reduce the intensity of our energy and greenhouse-gas emissions by 25 percent from 2010 to 2025. A new target is to install 4 gigawatts of renewable energy by 2025 and 12 gigawatts by 2030.
We strive to maximize resource efficiency and minimize environmental impact, even as we grow. This year, our Global Headquarters in Riyadh achieved carbon neutrality. We continue to make progress on our goals to reduce material-loss intensity by 50 percent and water intensity by 25 percent from 2010 to 2015. In addition, SABIC is introducing new sub-targets to further our commitment on material loss reduction.
To ensure these ambitious goals translate to impact, SABIC is restructuring to strengthen sustainability governance.
Driving Climate Change in Culture and Assets
SABIC takes a strategic approach to climate change. We steadily shift from coal to cleaner energy. In 2018, we established our first strategy to procure renewable energy. In Saudi Arabia, we can benefit from abundant solar and wind resources, and we work with the government to achieve targets outlined in the Paris Agreement.
To help our affiliates select and evaluate energy-efficient new projects, this year, we rolled out the Marginal Abatement Cost of Carbon (MACC) tool.
One project completed this year is the methanol recovery system at Ar-Razi, eliminating the need for an on-site incinerator. The project has already saved more than 9,600 tons of CO2-equivalent greenhouse-gas emissions.
Identifying these savings requires highly skilled experts. This year, we certified 120 employees through our Certified Energy Expert Program.
Saudi Energy Efficiency Program (SEEP)
SABIC continues to support the government-led Saudi Energy Efficiency Program (SEEP). We are fully committed to the first-cycle targets set by SEEP. To date, we have completed more than 170 projects totaling over US$1.2 billion. This year, our Saudi affiliates overcame difficulties to close 80 percent of the gap between our performance and the 2019 targets.
Disclosing Our Climate Impacts
We have worked with the Carbon Disclosure Project (CDP), a global nonprofit organization working to prevent dangerous climate change since 2013. 
This year, SABIC received an overall B rating on Climate Change from the CDP, making us one of the best climate-change performers in the Middle East and putting us on par with other companies in the chemical industry.
Building on our successful work, this year, SABIC joined the CDP Supply Chain Program to help suppliers disclose their own emissions.
Key Results
Achieved "overall B" from the CDP, one of the best results in the Middle East.
Implemented a methanol-recovery project at our Ar-Razi affiliate.
Installed new-resin condensate coils at our Tampico facility. 
Improved monitoring and efficiency of water and steam at Yanpet.
Optimized consumption of potassium hydroxide at Saudi Kayan.
Key Metrics and Trends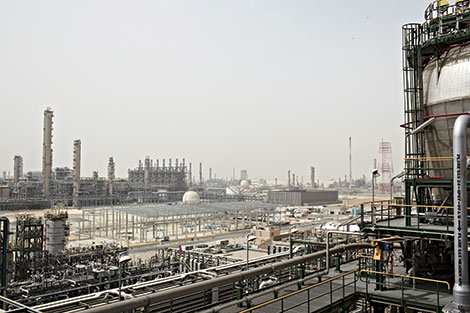 Material loss was reduced by 345,000 metric tons at SAFCO.
These metrics provide the changes in performance compared to 2010 for greenhouse-gas emissions, energy use, freshwater use, material loss, and flaring reduction. Total CO2 utilization is the absolute usage in 2019. The intensities are based on units per metric ton of external product sales.
Greenhouse-gas intensity

13.57%

reduction

Energy
intensity

9.45%

reduction

Water
intensity

12.62%

reduction

Material-loss intensity

41.54%

reduction

Flaring
emissions

*47.83%

reduction

Total CO2 utilization

*3.44

(million metric tons)