RISK AND EMERGENCY RESPONSE MANAGEMENT
PROCESS SAFETY KNOWLEDGE AND COMPETENCY
Risk management ensures safety. To ensure this is the case, we have process safety knowledge and competency development, risk discovery and management, emergency preparedness and response, and technical network support. Our Risk Management team focuses on high-consequence risks.
To minimize the impact of employee turnover on process safety expertise, we have many competency development programs.
We continued to collaborate with Texas A&M University's Mary Kay O'Connor Process Safety Center. As of this year, 70 engineers have graduated.
We continued our Fundamentals of Process Safety course. As of this year, 91 professionals completed the training.
We also strengthened the Process Hazard Analysis Leader Qualification, EHSS Risk Assessment for Leadership, and Fire Prevention and Emergency Management Training programs.
In addition, SABIC fully implemented four-tiered process safety leading and lagging indicators to the American Petroleum Institute's standards. We trained all affiliates and sites on this new methodology.
IMPROVING RISK DISCOVERY AND MANAGEMENT
SABIC Assurance for EHSS Risks (SAFER) is the key system for risk identification, assessment, tracking, and mitigation. SAFER reviews provide better visibility of risks and mitigation measures. This year, 45 leaders and 29 subject matter experts completed training on this system.
Cross-functional teams identified high-consequence process safety scenarios. They studied major incidents and near misses and process safety alerts, identifying 91 scenarios and minimum safeguards for prevention. We are embedding these findings in our safety standards.
We trained 90 professionals in our Pre-Incident Planning (PIP) protocol, empowering them to advance the practice and improve emergency preparedness at our facilities.
Our Transient Operations HAZOP (TOH) protocol helps development of procedures to more safely start up and shut down operations and manage emergency situations. This year, we trained 13 professionals in TOH.
ENVIRONMENTAL RELEASES AND EMISSIONS MANAGEMENT
We make it a priority to reduce environmental emissions and eliminating all accidental releases of hazardous substances into the environment.
This year, the total number of hazardous-substance release incidents increased from 29 to 31, and the total volume increased by 152 percent. The Class A Haz. Chem Release incident contributed for 80% of the total hazardous chemical release amount.
Case Study: Reducing emissions to air
At the Teesside Olefins 6 cracker, we replaced more than 2,500 burners, reducing NOx emissions from the plant by about one-third.
Several projects targeted volatile organic components (VOCs), including new Hexa-cover® technologies in Saudi Kayan. Installing these covers reduced VOC emissions from wastewater basins by almost 87 percent.
TOTAL NUMBER OF HAZARDOUS SUBSTANCE ACCIDENTAL RELEASE INCIDENTS
ENVIRONMENTAL STEWARDSHIP, RISK DISCOVERY, AND MANAGEMENT
To help us identify and understand changing laws and regulations, SABIC is an active member of the European Chemical Industry Council (Cefic), the American Chemistry Council (ACC), the Gulf Petrochemicals and Chemicals Association (GPCA), and others. SABIC also provide information for the pending European Best Available Techniques Reference Document (BREF).
We identify voluntary environmental initiatives, for instance the WASH Pledge and Operation Clean Sweep, integrating their commitments into our key performance indicators (KPIs).
We revised our risk assessment to prioritize the highest-potential environmental risks, supported by eSHEM, a new digital tool.
We linked our risk-discovery tools to our Environmental Emissions Analysis Tool (EEAT) to spot anomalies in emissions data and mitigate risk.
SECURITY MANAGEMENT
This year, SABIC improved security. In Saudi Arabia, all affiliates complied with directives from the High Commission for Industrial Security. In the United States, we passed four security audits with no security issues.
We developed a new assessment based on American Petroleum Industry methodology, executing 15 at our sites. In the United States, we piloted a workplace violence prevention project, and in Saudi Arabia, we implemented a digital system to document affiliate security programs.
CRISIS MANAGEMENT
This year, we conducted crisis management leadership workshops globally to identify best practices and review crisis incidents. We held readiness exercises in each region involving natural disasters, IT outages, and manufacturing and supply chain incidents. Finally, we continued to develop and pilot new tools to facilitate communications during crises.
PRE-INCIDENT PLAN: TESTING EMERGENCY RESPONSE READINESS
A pre-incident plan (PIP) is critical for responding quickly and effectively to serious incidents and emergencies. We use high-consequence scenarios from EHSS programs, including HAZOP, insurance surveys, and facility siting to develop PIPs. We conducted 90 PIP scenarios with independent experts this year, and we will conduct others at all global sites by the end of 2020.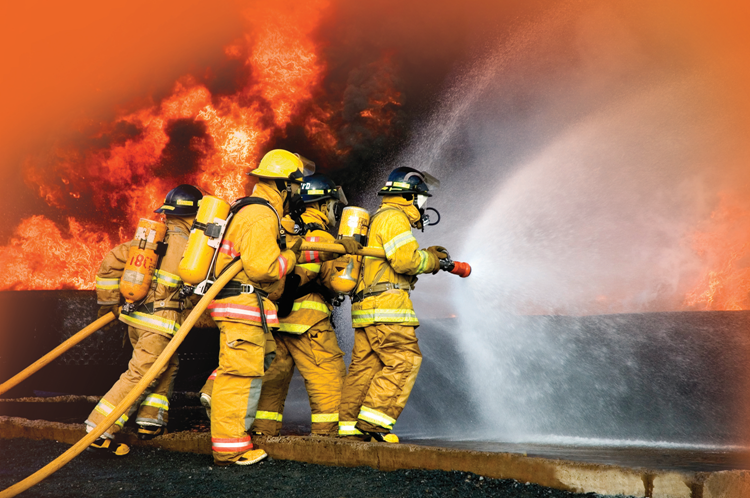 Title: Emergency Training on Pre-Incident Plan (PIP) Scenario
Previous Article
Next Article