LOOKING FORWARD
In 2020, we will continue to ensure that EHSS is a core SABIC value that is embedded in our DNA.
We will strengthen our culture of safety and environmental protection. To achieve our goal of reducing our global EHSS Incident rate to less than 0.25 by 2025, we will increase workforce training at every level.
We will continue to assess risks in our daily operations and those from our products, and to develop proactive approaches to minimize those risks.
To ensure the safety of our employees and suppliers, we will continue to provide clear, accessible safety data for chemicals of concern.
We continue to advance our digital transformation that accelerates our work toward global excellence, and are committed to transparent and strong stakeholder engagement, improvement of EHSS competencies, cultivating a culture of excellence, and sustaining strong EHSS awareness across around the globe.
We will continue to excel in product stewardship, particularly in product risk discovery and management, chemical regulatory monitoring and management, and effective communications, everywhere we operate.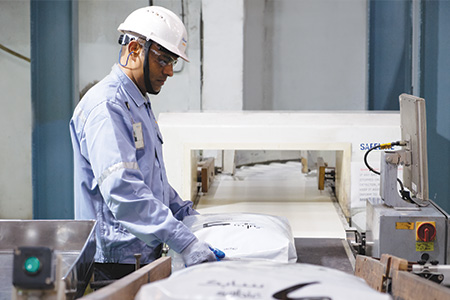 The adaptability and resilience of our people during this challenging year was a true highlight for SABIC.