Dr. Bob Maughon
Executive Vice President, Technology and Innovation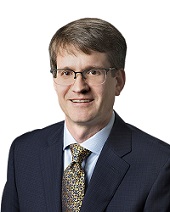 Dr. Bob Maughon is the Executive Vice President, Sustainability, Technology & Innovation and Chief Technology and Sustainability Officer.
He oversees SABIC's 20 research centers around the world.
Additionally, Dr. Maughon has responsibility for Corporate Sustainability, Product Stewardship, Technology Licensing and Technology Ventures.
Before joining SABIC in 2019, Dr. Maughon served as the R&D vice president for Packaging & Specialty Plastics and Hydrocarbons at Dow.
Dr. Maughon serves as a board member of the University of Michigan Engineering Leadership Advisory Board.
He holds nine US patents and has numerous publications and presentations at external conferences.
He earned his bachelor's degree in chemistry from Rice University and his PhD in organic chemistry from the California Institute of Technology.