Dr Ernesto Occhiello
Executive Vice President, Specialties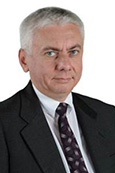 Ernesto Occhiello returned to SABIC as Executive Vice President, Specialties, on September 1, 2019.
During his previous tenure (2015-2018) at SABIC in the same position, Mr. Occhiello led the Specialties business, covering select high-end plastics segments. Previously, he led SABIC's Technology & Innovation also as Executive Vice President from August 2011 to May 2015.
From October 2018 until July 2019 Mr. Occhiello joined Clariant as Chief Executive Officer. Prior to joining SABIC, he served as Global R&D Director of The Dow Chemical Company.
Most of his career has been in research and technology development for specialty and performance products. His experience also includes technical service, manufacturing leadership and acquisition integration.
A former professor from the University of Turin in Chemistry of Materials, Dr. Occhiello has co-authored two books, more than 100 scientific papers, and communications to congresses. He is responsible for more than 45 patents and has more than 120 citations in SciFinder.