Faisal Al Suwailem
SABIC Executive Vice President, Shared Services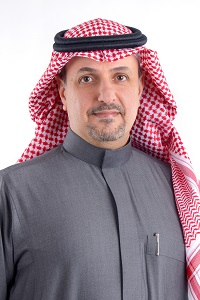 Faisal Ibrahim Al Suwailem served as Vice President of Internal Audit at SABIC before he was appointed as the Executive Vice President of SABIC Shared Services.
During his career with SABIC, Mr. Al-Suwailem has held several positions in key roles, including the General Manager, Board Affairs and Corporate Governance, where he played a significant role in establishing and enhancing Corporate Governance standards.
Earlier, he served as the General Manager, Enterprise Risk Management, where he played a significant role in formalizing and enhancing the company-wide Risk Management and Business Continuity Management (BCM) framework and practices, including insurance and credit in addition to supporting the formalization of the relevant roles and oversight structures on risk management at various levels in the organization. 
Al-Suwailem sits on several boards and committees. He holds a Bachelor's Degree in Accounting from Western Illinois University and a Master's Degree in Business Administration (Executive MBA) from Thunderbird School of Global Management (Arizona State University). He has completed many leadership and executive development programs from IMD and Harvard.