SABIC CERTIFIED "TOP EMPLOYER CHINA" FOR TENTH CONSECUTIVE YEAR
02/12/2019
With its outstanding performance in talent strategy, career development and corporate culture, SABIC, a world leading diversified chemical company, has been officially recognized as a "Top Employer 2020" in China for the tenth consecutive year in Shanghai today. This comes in addition to being certified as "Top Employer" in Asia Pacific for seven consecutive years, and as a Top Employer 2020 in several key Asia Pacific markets, including Singapore, India, Japan and South Korea.
"Being certified Top Employer for ten consecutive years is an important milestone for SABIC's development in China," said Li Lei, Vice President and Regional Head, North Asia, SABIC. "Since entering the country in the 1980s, we are committed to creating an inclusive working environment for our employees in China through 'Chemistry that Matters'. We always focus on the personal and career growth of our employees and regard them as the most vital asset and the power source behind our continuous development."
Amanda Guo, Director, HR Operations, Asia, SABIC, accepted the certification on behalf of the company at a grand award ceremony held by the Top Employers Institute. She said, "For many years, SABIC strived to cultivate local talents in China, actively participating in local development and community collaboration, promoting the sustainable development of our business in China. We are glad that our persistent efforts have been repeatedly affirmed by the Top Employers Institute, as well as all sectors of society."
Founded in 1991, the Top Employers Institute is committed to helping enterprises improve human resource management and create excellent workplaces. It is a global authority in the field of human resources and has certified over 1,500 enterprises in 118 countries and regions, positively impacting the work and lives of more than six million employees around the world. The certification process is composed of high-standard audits and examinations, with a comprehensive survey that encompasses over 100 questions, covering 600 'Personal Development' practices across 10 fields: Talent Strategy, Workforce Planning, Talent Acquisition, On-boarding, Learning & Development, Performance Management, Leadership Development, Career & Succession Management, Compensation & Benefits and Culture.
David Plink, CEO of the Top Employers Institute said, "To be recognized as a Top Employer, an organization will have to prove that the implementation of its people strategies enriches the culture and work of its employees and should remain constantly vigilant, looking for ways to improve the workplace environment and enrich its employees' lives. SABIC is clearly a Top Employer that treats every employee properly, having obtained this certification in China for ten consecutive years, and is undoubtedly setting a remarkable benchmark in human resource management."
By focusing on human resource management and talent development, SABIC has successfully implemented a series of engagements throughout Asia Pacific this year, effectively promoting the communication between employees of different levels and roles within the company, enhancing the connection and exchange between key markets in Asia Pacific, and putting employee care into practice by building useful platforms. Most recently, SABIC's first "HR Day" was successfully launched in Greater China, engaging the employees through a series of interactive activities including Chinese and Saudi Arabian cultures, career development training, healthcare programs, leaders exchange, risk-prevention lectures, workplace experience sharing and learning resource introductions, garnering warm feedback from employers.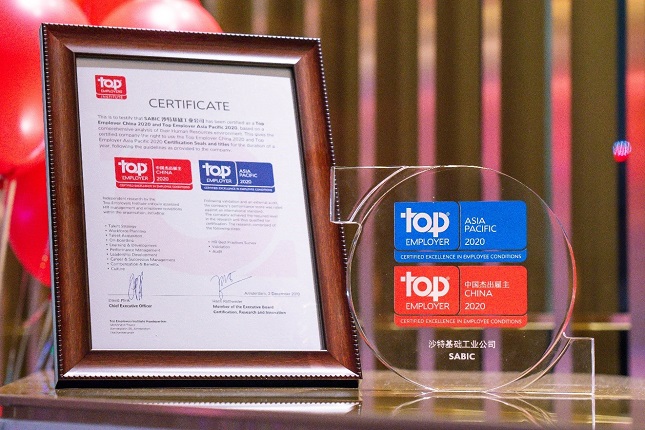 SABIC certified "Top Employer 2020" in China and Asia Pacific