SABIC Announces The Upcoming Launch Of LNP™ ELCRES™ Fst Copolymers For Rail Interior Wall Panels, Featuring En 45545 Compliance And Custom Colorability
18/09/2022
SABIC, a global leader in the chemical industry, today announced the upcoming launch of LNP™ ELCRES™ FST2734E copolymer, a flame-smoke-toxicity extrusion grade that is well-suited for wall and ceiling panels in passenger trains, subways and trams. Customers can benefit from this new specialty material, which complies with the European railway standard for fire safety, EN 45545 R1-HL2, and meets key rail OEM requirements: high modulus for durability, molded-in custom color for paint elimination and branding, ultraviolet (UV) resistance to help minimize yellowing and chemical resistance to facilitate cleaning removal without causing environmental stress cracking (ESC). As a thermoplastic, LNP ELCRES FST2734E copolymer offers customers distinct advantages over stamped metals and thermoset resins, such as expanded design freedom, system cost reduction, up to 20 percent less weight for easier maintenance and the potential for easier recyclability.
To help increase the sustainability of rail interiors, the new copolymer will also be supplied in a bio-based version with the same regulatory compliance, performance properties and processing parameters as the fossil-based grade. Bio-based LNP ELCRIN FST2734EB copolymer is formulated with approximately 55 percent renewable feedstock from waste materials such as crude tall oil. An Intergovernmental Panel on Climate Change (IPCC) CO2 equivalent analysis showed this product reduced carbon emissions by approximately 28 percent vs. fossil-based counterparts. Both LNP ELCRES FST grades will be previewed at InnoTrans 2022, September 20-23 in Berlin, Germany, in hall 5.1, booth #332.
"As travel rebounds, the rail industry is looking for ways to increase the number of passengers – and one promising approach is to upgrade the interior of the train to deliver a more satisfying customer experience and improve sustainability," said Joshua Chiaw, Director, Business Management, LNP & NORYL, Specialties, SABIC. "We are addressing passenger rail trends by expanding our portfolio of specialty materials to help meet the latest requirements. By developing new grades that comply with stricter regulations, offer system cost advantages, and enhance aesthetics, durability and sustainability, we aim to support industry efforts to maximize the appeal of rail travel as a cost-effective, safe, reliable and convenient choice."
Compliance with European Fire Safety Standard
The upcoming LNP ELCRES FST2734E and LNP ELCRIN FST2734EB grades meet the strict fire safety requirements of EN 45545 R1-HL2 for horizontal / vertical interior surfaces, including ceilings and walls. The regulations are intended to minimize the effects of heat, smoke and toxic gases on passengers and staff. The new materials are among the few colorable thermoplastics capable of robust compliance with the European regulation, which is considered the global benchmark.
LNP ELCRES FST2734E copolymer and its bio-based equivalent, which are developed for extrusion processes, produce sheets that can be thermoformed. The new grades are well suited to panel thicknesses between 2-5 mm.
Design and System Cost Advantages
Compared to metal and thermoset resins, LNP ELCRES FST2734E copolymer and its bio-based version provide greater freedom to design new panel configurations and integrate aesthetics, parts and functions without the need for secondary operations. For instance, decorative film can be applied to thermoplastic panels during extrusion, whereas a thermoset part would require a separate application step. Brackets and fasteners can be integrated using laser welding instead of requiring adhesives. Likewise, the material's molded-in color capability eliminates the cost, time and emissions of volatile organic compounds (VOCs) associated with painting, which is typically used for metal and thermoset panels.
The new materials' excellent chemical resistance makes it easy to clean to help extend the useful life of the part. These grades are scheduled for commercial availability in late 2022 or early 2023.
"Our LNP FST products for rail panels demonstrate the success of SABIC's technical experts in solving major challenges around compliance, quality, durability, cost control and sustainability," noted Luc Govaerts, Technology Director, Specialties, SABIC. "In developing these new grades, we worked closely with customers to understand their needs and preferences, including requests for bio-based, drop-in alternatives that strengthen environmental protection. These specialty copolymers represent a new generation of materials for panels and open up new possibilities for the industry."
Growing Material Solutions for the Rail Industry
At the show, SABIC will also be featuring the company's new LNP™ THERMOCOMP™ AM DC0041XA51 compound, a pellet-fed additive manufacturing (PFAM) grade that is well-suited for rail seating and other large parts, and four EN 45545-compliant LNP ELCRES FST materials for extrusion and injection molding of rail seating components. For more information on these new grades, download the press releases.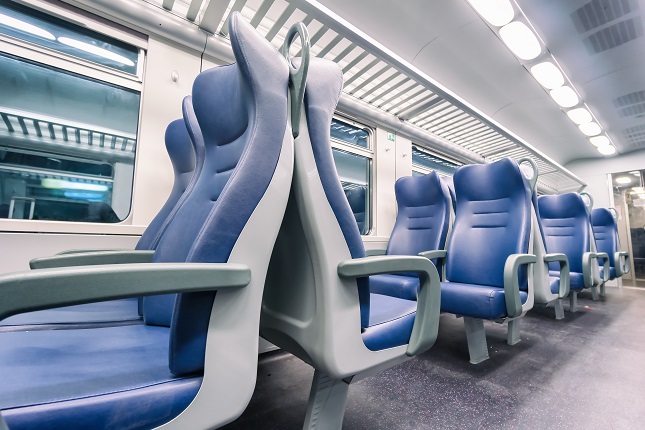 SABIC's LNP ELCRES FST2734E copolymer – and its bio-based version, LNP ELCRIN FST2734EB copolymer – are extrusion grades that are well suited for wall and ceiling panels in passenger trains, subways and trams. Customers can benefit from these new specialty materials, which comply with the European railway standard EN 45545 R1-HL2 and meet key rail OEM requirements.