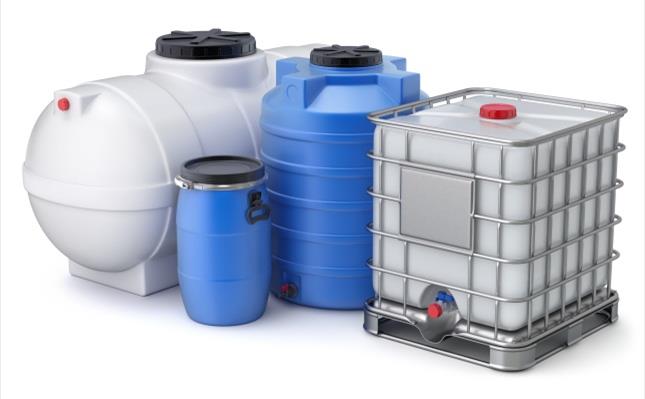 Industrial Containers
Whether you are looking for outstanding organoleptic properties or other properties such as environmental stress cracking resistance (ESCR) for chemical products, SABIC offers a relevant solution for your needs within our extended blow-molding portfolio. In addition to our broad range of SABIC® HDPE and SABIC® PP grades in this portfolio, we also offer grades specifically suited to UN certification for bulk containers. By broadening our portfolio of value solutions with a bi- and multi-modal HDPE range, we are focusing on providing solutions to the industrial containers segment. We very much look forward to collaborating with our customers to further understand their needs and help with innovative and competitive solutions for our mutual success.
SABIC SOLUTIONS FOR INDUSTRIAL CONTAINERS POTENTIALLY OFFERS:
The whole portfolio of materials covering jerry cans, tight and open head drums as well as intermediate bulk containers
Mono- and multi-modal HDPE to meet current and future industrial container application requirements
One of the leading material solution supplier for industrial packaging and large containers ranging from >5 L up to 1.000 L
POTENTIAL APPLICATIONS
Jerry cans, open-head and tight-head drums, intermediate bulk containers s can be used for food packaging as well as for non-food packaging such as potentially harmful goods.
SABIC MATERIALS FOR RIGID PACKAGING APPLICATIONS:
These are just a few examples of SABIC's materials. For specific product selection, please contact SABIC technical team. You can find more about SABIC material solutions by clicking on the relevant product line below.
SABIC® HDPE ICP5506 POLYMER
SABIC® HDPE ICP5506 can be used for blow molding of industrial container solutions to offer a better weight/performance balance.
Improved stress cracking resistance and stiffness
Potential weight reduction up to 10% mono- and multimodal HDPE to meet current and future industrial containers' requirements
SABIC® HDPE POLYMERS
Blow molding processing, outstanding ESCR and weight reduction possibilities.
| Product Grades | Applications |
| --- | --- |
| B5210 | Containers also for UN certification |
| BM1052* | Small and medium size containers |
| ICP4907S | Industrial Bulk Containers and fuel tanks |
| ICP5506 | High quality, Containers also for UN certification |
| ICP5703 | Open head & tight head drums |
| ICP5602 | Open head & tight head drums |
| B1054 | Containers also for UN certification |
| B5403 | Open head & tight head drums |
* Not imported to Europe