---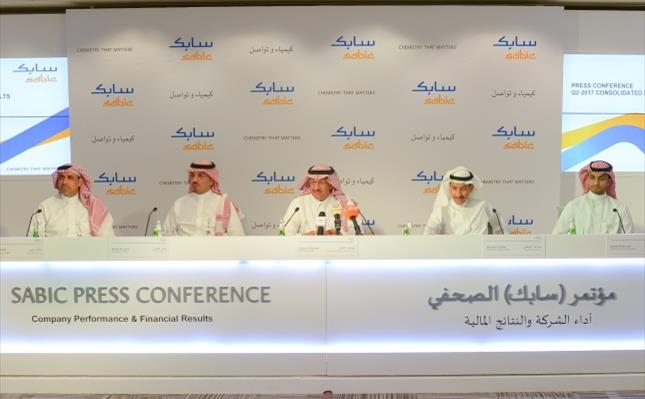 ---
SABIC's profits for first half of 2017 up 14%: CEO pledges continued support for local industry and Saudi Vision 2030
07-30-2017
SABIC achieved a 14 percent increase in profit for the first half of 2017 compared to the same period last year, with profits rising from US$2.09 billion to $2.38 billion, Yousef Al-Benyan, Vice-Chairman and CEO, announced at the company's Global Headquarters in Riyadh today.
"The Kingdom is undergoing a very important transformation process, and we are looking forward to positive results," Al-Benyan said. "If we compare the results achieved so far in 2017 with the results of the same period last year, we will notice a 14 percent increase in profits, which means that we are moving in the right direction."
While profits for the first half of the year increased, second-quarter profits were lower than the previous quarter and the corresponding quarter last year. In a Tadawul statement today, SABIC reported a profit of $0.99 billion in the second quarter of 2017. This figure is 25.2 percent lower than the profit of $1.32 billion reported in the second quarter of 2016 and 29.2 percent lower than the $1.39 billion reported in the first quarter of 2017.
Al-Benyan expressed his optimism over SABIC's performance despite the decline in profits in the current quarter. He considered that such a decline does not indicate any significant problems.
The company attributed the decrease in second-quarter profit to higher sales costs and lower sales volumes, in addition to low volumes and sales at the Hadeed manufacturing affiliate, which recorded a loss of $128.8 million compared to profit of $22.9 million in the same quarter last year.
Al-Benyan attributed the second-quarter decreases to three main factors: the loss at Hadeed, a decline in product prices by 4 percent from the previous quarter, and writing down assets at the Ibn Rushd manufacturing affiliate by $154 million, of which SABIC's share is $74 million.
Speaking about the global market outlook, Al-Benyan said, "The US is a strong and important market for SABIC, although the outlook for its growth in gross domestic product was revised from 2.3 to 2.1 percent." He said the company's partnership with ExxonMobil to build a new complex that converts shale gas into petrochemicals shows SABIC's desire to expand its US operations. The project is making significant progress, with the land for construction selected early in the second quarter of this year.
Al-Benyan stressed the importance of Asian market for SABIC, indicating that it accounts for 30 percent of SABIC's total sales. He said SABIC enhanced its ability to maintain market share in Asia by engaging with customers and giving them the best services and products. This approach helped reduce the impact of the challenges facing SABIC in these markets, especially China, which is slowing in some sectors.
In Europe, Al-Benyan said that the presence of the company's plants has contributed to profitable returns, given the low shipping cost for SABIC in this market.
Al-Benyan emphasized SABIC's emphasis on safety and security as an essential element of its operations that cannot be compromised under any circumstances. He said the company cares about human capital and has raised the HR budget in 2017, providing training programs that raise the performance of the company.
"SABIC sees technology and innovation as an important element in realizing our 2025 strategy," the CEO said. "We continue to invest in research that will strengthen SABIC's competitive position, optimize feedstock utilization, and reduce costs."
SABIC hopes to play a pivotal role contributing to Saudi Vision 2030, Al-Benyan said, establishing a specialized local content unit with the transformation of the company that began two years ago.
He said: "SABIC is moving this forward because we believe in the importance of developing local content and enhancing support for industry. This leads to high levels of growth and more job opportunities for the Saudi youth."
SABIC is not only increasing domestic purchasing, but also providing support for the industrial and government sectors, providing long-term training programs for private sector employees, he said. "SABIC does not just provide one-week or two-week training programs, but programs that last for a year or two." SABIC will meet with several parties next week to present a proposal for the development of local content.
Riyad Al-Faiz
Leader, Global Communication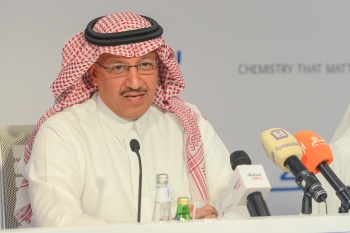 ---