---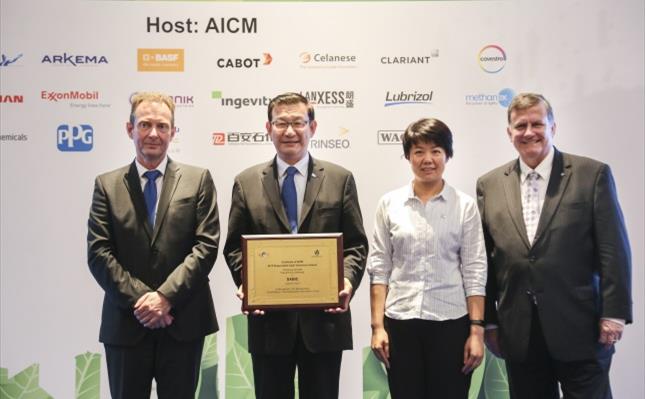 ---
SABIC wins AICM's Responsible Care® Chairman Award in China, marking 3rd straight honor in sustainable business practices & performance recognition
06-20-2017
Shanghai, China, June 20, 2017 – SABIC was presented with the AICM Responsible Care® Chairman Award at a ceremony on 19th June in Shanghai, China in recognition of the company's leadership, innovation and contribution to China's chemical industry and the Chinese public, as well as its efforts in integrating the guiding principles of Responsible Care® throughout its operations. This is SABIC's third consecutive award after earning the Responsible Care® Merit Awards in 2013 and 2015. 
Sustainable development sits at the heart of China's 13th Five-Year Plan as the country seeks to move towards a greener and low-carbon development model and lifestyle. These goals make it imperative for corporations which are active in China to step up and do their part. SABIC, as a globally responsible company, has practices in place that supports China's plan – something the Association of International Chemical Manufacturers (AICM) has validated.
"SABIC is proud to be a member of AICM's voluntary Responsible Care® initiative," said Li Lei, Vice President, North Asia. "Sustainability is a core element of SABIC's 2025 vision. The Responsible Care® Chairman Award reaffirms our capabilities in achieving manufacturing excellence and offering innovative sustainability solutions while minimizing our impact on the environment. It also underscores our track record, both as an adopter and as an advocator of EHSS, and will certainly spur us to raise our efforts in Responsible Care® for the industry, community and within SABIC." 
The AICM Responsible Care® Chairman Award is the highest accolade for member organizations which demonstrate leadership in all aspects of Responsible Care®: environmental sustainability, health, safety and security (EHSS). Among the Responsible Care® activities which SABIC has spearheaded in China in alignment with AICM over the last five years include a variety of EHSS projects and Corporate Social Responsibility (CSR) programs that aim to boost the adoption of sustainable practices in China's chemical industry, such as: 
Food safety: In 2016, SABIC organized and attended 17 food safety seminars, conferences, workshops and meetings to support China's Ministry of Health in the drafting of standards, assist in the review of China's new food-contact standard and to share the findings with fellow AICM member companies. 
Process safety: Over the years, SABIC has coached and trained chemical professionals (e.g. from Nanjing Chemical Industrial Park and Shanghai Xinzhuang Industrial Park) and undergraduates (e.g. from East China University Science and Technology) on Process Safety Management. 
Product safety: In ensuring product safety, SABIC's product stewardship team has distributed 10,000 product compliance letters for about 7,000 products to downstream users so as to promote compliance to product safety across the entire value chain. The team has also conducted over 28 training sessions for its offices and chemical customer and suppliers in APAC to support them in their implementation of the Globally Harmonised System and Safety Data Sheets Label.
Sustainability solutions: Over the years, SABIC introduced several new product families in packaging, building and construction, transportation, and other markets that enable our customers to realize their own sustainability ambitions through the possibility to create products with lesser material and lighter weight. For example, in 2016, SABIC collaborated with Chinese automaker SGM to launch the world's largest LEXAN™ polycarbonate based rear-quarter window, delivering up to 40 percent weight reduction compared to glass window and thus allowing reduction of greenhouse gas emissions of the end-product. 
Nurturing the next generation: "Lights of our Future" is a SABIC signature CSR program, focusing on sustainability and community engagement with Chinese youth. Since its launch in 2014, SABIC volunteers have engaged more than 600 students to inculcate a mindset of sustainability. In June 2017, SABIC took the program beyond the campus in search of practical solutions to protect our river eco-systems by launching the Lights of Our Future River Conversation Program, together with the Shanghai Pudong Kangqiao Town Government and the Shanghai Services Industries Development & Research Foundation.
Top Employer honors: SABIC was named a "Top Employer in China" for the seventh consecutive year in 2017. This re-certification recognizes the company for nurturing an inclusive environment that encourages innovation, excellence and organization effectiveness, with a strong focus on employee development. This is more vital than ever as China moves towards a more innovation driven economy, posing a need for a robust, skilled and motivated workforce.
SABIC's other projects also include: investing in a pair of new, German-designed, Chinese-built eco-ships for the storage of refrigerated ethane, organizing Open to Public Day at its SABIC Technology Centre in Shanghai, actively working to improve China's Road Safety Quality Assessment System (RSQAS) program, and participating in initiatives to reduce and prevent pollution.
For more information on SABIC's efforts in Sustainability, please refer to https://www.sabic.com/en/sustainability/corporate-reporting
---