Sensor Solutions
Augmented reality, autonomous vehicles, smart phones, and automation of production are just some of the application spaces that drive the demand for precise yet affordable sensor solutions. 
SABIC's specialty thermoplastic-based solutions offer easy design of high precision components, simpler assembly by integration of fixtures in the part design, and large builds using injection molding.
Material solutions well suited for sensor applications are available with excellent mechanical, dielectric, thermal, and optical performance to address the need for changing technologies in radiofrequency (RF) and infrared (IR) lenses, fiber optics and optical interconnects. SABIC's flame retardant (FR) specialty thermoplastics comply with Underwriter Laboratory testing protocols.
A specialized series of EXTEM™ (polyimide) and ULTEM™ (polyetherimide) resins can help to optimize near-IR transparent micro lens design and production. These high-heat resistant thermoplastics have multiple advantages over glass and thermosets. 
They offer excellent near IR light transmission 
Help enable the design of complex parts like lens arrays in very large volumes
Help streamline assembly by integrated fixtures 
Are well suited for both diffractive and refractive free-form optics.
Economically advantageous large scale production using injection molding
Compared to other thermoplastics, the Edison Gold award-winning EXTEM RH resin series has the extraordinary potential to withstand the high temperatures of reflow soldering to help streamline PCB assembly.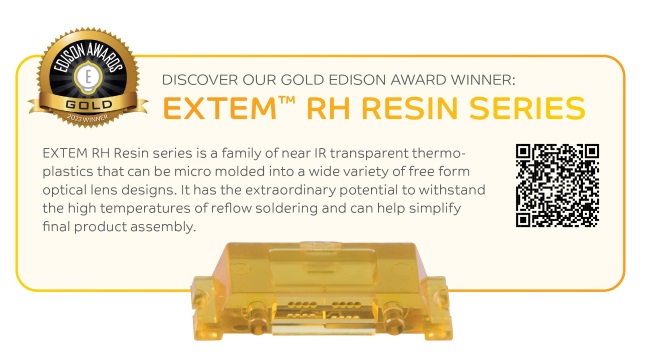 Performance benefits:
Balanced dielectric properties 
Electromagnetic compatibility
Excellent dimension stability
Flame retardance
Near infrared transmission
Reflow soldering compatible, up to 260°C
Regulatory compliance
Potential applications:
Advanced Driver Assistance Systems (ADAS)
Optical proximity and gesture recognition sensors
3D cameras and virtual reality headsets
Biometric monitoring devices
Security systems and smart homes
Splice enclosures
Video games
Waveguides
Also, well suited for optical interconnects, fiber optic connectors and adapters
Key SABIC materials: