SABIC attends inaugural BFA ISTIF, highlighting T&I strength and commitment to sustainability
10/11/2020
The Boao Forum for Asia (BFA)'s inaugural International Science, Technology & Innovation Forum (ISTIF) was held in Macao Special Administrative Region (SAR), China between November 9 and 11. Throughout the event, SABIC, a global leading diversified chemical company, attended the forum as BFA 2020 honorary strategic partner, where it comprehensively demonstrated its technology & innovation (T&I) strength that drives the industry's transformation, and once again deepened its firm commitment to sustainability and sustained growth.
On November 10, during the opening ceremony and plenary session, the forum President and former Chief Executive of Macao SAR Ho Hau-wah read a congratulatory letter from China President Xi Jinping, followed by onsite or video remarks from many distinguished guests including Vice Premier of the State Council Han Zheng, Chairman of BFA Ban Ki Moon, Ho Hau-wah, Vice Chairman of BFA Zhou Xiaochuan, Chief Executive of Macao SAR He Yicheng, Former Philippine President Gloria Macapagal Arroyo and Chief Executive of Hong Kong SAR Carrie Lam.
Acting as representative of attending enterprises at the plenary session, Li Lei, Vice President and Regional Head, North Asia, SABIC, was invited to deliver a keynote speech. Speaking on SABIC's inspiration, he said, "Innovation is the essence of the chemical industry and drives all sectors forward, while sustainability is the inevitable destination for businesses and an irreversible historical trend. With the grand opening of the Fifth Plenary Session of the 19th CPC Central Committee, China's innovation-driven strategy has ushered in new guidance, which inspires SABIC to better unleash its T&I capacity and join hands with all partners during the journey of innovation-driven quality development."
As one of the signature events under the BFA framework, the forum was co-organized by BFA and Macao SAR government. It aims to enable implementation of national initiatives including the innovation-driven strategy and the construction of the Guangdong-Hong Kong-Macao Greater Bay Area. Themed 'Innovation Enabling Sustainable Development' and featuring topics including 'innovation as a driving force', 'innovative life' and 'innovation cooperation', the forum focuses on the sharing of achievements and exchange of ideas, exploring the key role of T&I in promoting people's health and sustainable development across the globe. A diverse group of around 800 people attended with prominent global political figures, representatives of Portuguese-speaking countries and international organizations. Also in attendance were officials from China's central government and local authorities from Macau, as well as experts & scholars specializing in T&I and renowned business leaders amongst them.
Frank Kuijpers, General Manager, Corporate Sustainability, SABIC, has been invited to deliver a keynote speech and join a panel discussion on November 11 at the "Innovation and Life - From Molecular Design to Material Application" session. In anticipation of this, Frank Kuijpers shared his thoughts on industry challenges, stating, "Fossil feedstocks have enabled the wellbeing and development of our society over the past 50 years, but have also led to a series of new challenges such as climate change and plastic misuse. While circularity and renewables have emerged as new trends, I am glad to have been granted this opportunity to demonstrate SABIC's unremitting efforts in driving the development of a circular economy, effectively answering the demands of our era through the introduction of our various innovative solutions, notably the TRUCIRCLETM portfolio and solutions."
At the side-line of the event, utilizing the conference's excellent platform, SABIC opened a booth and displayed a series of innovative solutions with four themes: Sustainable Development, Food & Water Resources, Energy Efficiency and Urbanization. At the booth, the SABIC TRUCIRCLE™ portfolio and services were especially highlighted as a breakthrough that resulted from SABIC's latest efforts to promote a circular economy.
Positioning T&I as its very foundation, SABIC accumulates significant research resources and fosters a strong talent base with innovation hubs in five key geographies – the US, Europe, the Middle East, South Asia and North Asia (Including China), possessing 12,540 global patent filings. During its over 40 years' continuous exploration of the China market, SABIC has also taken T&I as the core driver of its localization journey. Through its technology center in Shanghai, SABIC integrates the company's global R&D experience and resources network with local market needs, to actively and continuously enable China's inclusive growth.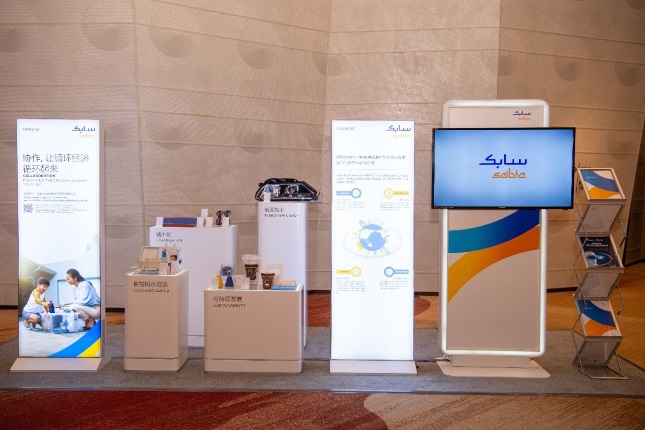 At the side-line of the event, SABIC displayed a series of innovative solutions.